Thousands attend memorial service for ex-SEAL sniper murdered at gun range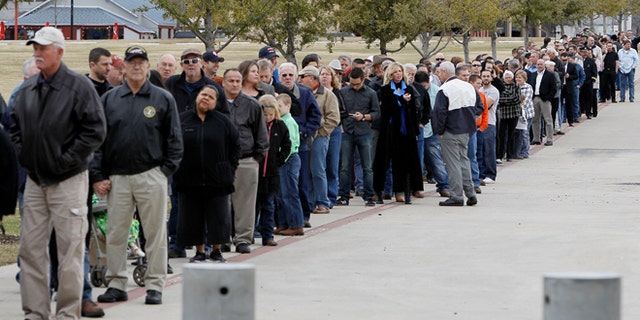 NEWYou can now listen to Fox News articles!
ARLINGTON, Texas – Slain ex-Navy SEAL Chris Kyle was a devoted husband, father and friend who will never be forgotten, his widow told mourners at his memorial service Monday.
Taya Kyle said she was broken but that the family will "put one foot in front of the other" to get through their grief. She told her two children that they will remember Chris Kyle's silly side, Texas twang and prayers they prayed together.
"Chris, there isn't enough time to tell you everything you mean to me and everything you taught me," she said through tears.
Nearly 7,000 people, including former Alaska Gov. Sarah Palin and her husband, attended the service at Cowboys Stadium. Dozens of military personnel and others were seated in front of the podium near the star at midfield, where Kyle's flag-draped coffin was placed at the beginning of the service.
After Taya Kyle's eulogy, country singer Randy Travis sang "Whisper My Name," which he said Taya Kyle had told him was a meaningful song for the couple, and "Amazing Grace." At the conclusion of the two-hour service, bagpipers played as military personnel carried out Kyle's coffin, and many in the crowd saluted.
His friends and fellow service members told mourners that Kyle was more than an excellent sniper feared by U.S. enemies -- he was a dedicated family man known for his sense of humor, compassion, selflessness and generosity.
Some who served with him said that Kyle was a man, myth and legend because he would do anything for his fellow SEALs. Some of his childhood friends recalled his mischievous side, and one said he and Kyle played with BB guns as kids -- and Kyle "wasn't a good shot back then."
Before and during the service, pictures of Kyle with his family and SEALs were shown on a large screen in the stadium. The back page of the memorial service program included copies of handwritten notes from Kyle's young kids: "I will miss your heart. I will love you even if you died" from his daughter, and "I miss you a lot. One of the best things that has happened to me is you" from his son. The children signed them "Baby Girl" and "Bubba."
Kyle completed four tours of duty in Iraq and wrote the best-selling book "American Sniper."
Iraq War veteran Eddie Ray Routh, 25, has been charged in the Feb. 2 killings of Kyle and his friend Chad Littlefield at a North Texas gun range. Routh is being held in Erath County on $3 million bond.
Kyle's funeral service is scheduled for Tuesday. He will be buried at the Texas State Cemetery in Austin after a 200-mile funeral procession.
Many said before Monday's service that they didn't know the 38-year-old Kyle. Air Force Master Sgt. Kevin Phillips said he came from his Fort Worth home to honor "a brother in arms."
Esperanza Meza, who is in the Texas State Guard, said: "I'm here to pay my respects to him, and also for all of those who have fallen while serving this country."
The director of the nonprofit that Kyle set up to give in-home fitness equipment to physically and emotionally wounded veterans has said that Kyle and Littlefield apparently had been helping Routh work through post-traumatic stress disorder.
Kyle, Littlefield and Routh were all together when they arrived at the shooting range at Rough Creek Lodge, about 50 miles southwest of Fort Worth, authorities say. Routh later fled the range in Kyle's truck and went to his sister's home.
According to a search warrant, Routh told his sister and brother-in-law that the men "were out shooting target practice and he couldn't trust them so he killed them before they could kill him." Routh's sister called the police, describing her brother as "psychotic." Routh was arrested after a short police chase.
Routh's brother-in-law told authorities that Routh had recently been diagnosed with post-traumatic stress disorder.
One of Routh's attorneys, J. Warren St. John, said his client had been released from the Dallas Veterans Affairs hospital against his family's wishes just two days before the shootings.
Littlefield's funeral was held Friday in Midlothian. After the funeral, Littlefield's relatives said the outing with Routh was intended to be therapeutic.