'The Match' between Tiger Woods, Phil Mickelson: What to know about the unique golf event
Tiger Woods and Phil Mickelson go head-to-head Friday afternoon in an event simply dubbed "The Match" – with $9 million and bragging rights at stake.
Reminiscent of the old Thanksgiving "Skins Games" that ended in 2008, Friday's event kicks off at 2 p.m. EST with tee time an hour later. Fans will have to pay to watch the spectacle, which features both the players and caddies mic'd up for added entertainment.
Woods, 42, and Mickelson, 48, have combined for 123 PGA Tour victories and 19 majors. Both were part of the U.S. team at this year's Ryder Cup but haven't competed since.
Here's a look at how to watch "The Match" and the big role gambling is playing in the event.
The match
The two golf greats will meet Friday afternoon, with the broadcast starting at 2 p.m. EST. It is being shown on DirecTV and AT&T U-Verse and other cable and satellite outlets for $19.95. It can also be streamed on Turner's B/R Live.
The broadcast will feature both golfers mic'd up as well as microphones placed on their caddies (Joe LaCava for Woods and Tim Mickelson for his older brother). With the showdown on pay-per-view, there will be no commercial breaks and plenty of opportunities to hear both golfers try to one-up each other with (gentlemanly) trash talk and verbal jabs.
Sin City
The fanfare surrounding the match has been compared to a "Vegas prize fight."
The $9 million winner-take-all event is being held at Vegas' Shadow Creek. Once a private course, it's now public and sits at No. 5 on Golf Digest's list of the top 100 public courses in the U.S.
The history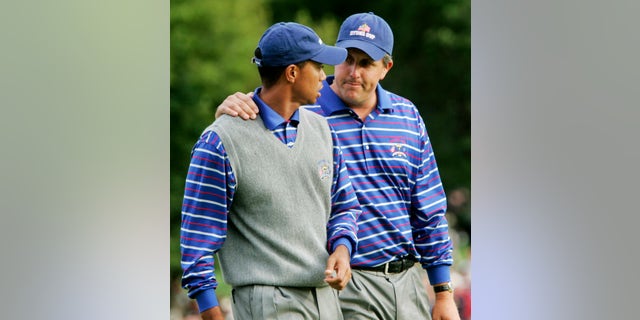 Woods and Mickelson, at one point bitter rivals, have a long history. Ahead of the match, Woods leads Mickelson in career common events played and in career common rounds played, according to Golfweek. The two are tied, however, in common events played in 2018.
Over the years, the pair's rivalry has transformed into something approximating mutual respect, if not friendship. But with a lot on the line Friday, the old rivalry is sure to flare up again, said golfer Darren Clarke, who has competed against both men.
And Excel Sports' Mark Steinberg, Woods' longtime agent, told Golf World fans can expect to "see things that you just won't see on a Sunday at a regular tour event."
"Are they going to want to beat each other's brains in? Absolutely. They're there to compete. But they're going to have a hell of a lot of fun, and it will be different start to finish," Steinberg said. "The battles back in the day were more about competition. This has other elements that make it entertainment, too."
The betting
Aside from the excitement of the match itself, the gambling aspect should be intriguing. The players can set their own odds on shots at different times, and fans will be able to bet along with them. And more states are approving sports gambling across the country.
Mickelson and Woods already have high stakes on the first hole. Mickelson said he would wager $100,000 that he would birdie the first hole and Woods doubled it.
Viewers can also compete alongside the golfers – virtually, that is – with B/R Live's "Pick 'Em Challenge." Those participating can make predictions in real time about the outcomes of each hole, earning points for accuracy. Whoever scores the most points, will win a free trip to Las Vegas. And if someone's predictions end up 100 percent correct, the prize is $1 million.
The Associated Press contributed to this report.