The Latest: Storm brought much-needed rain to California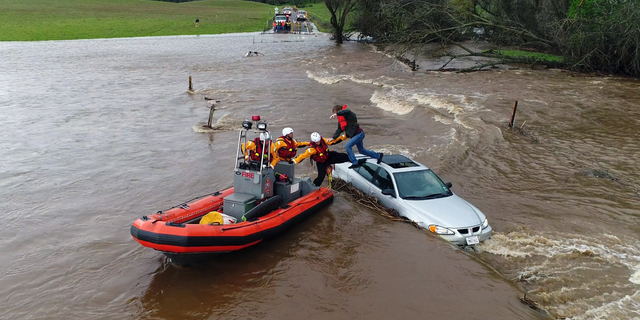 LOS ANGELES – The Latest on California storms (all times local):
2:30 p.m.
The storm that drenched California this week brought much-needed rain to the state, which has been slipping back into drought conditions due to a dry winter that only turned wet and snowy this month.
Preliminary storm data Friday shows some stunning totals for the three-day storm, including more than 10 inches (25 centimeters) of rain at some locations in the Sierra Nevada and on the central coast, and 31 inches (79 centimeters) of snow at Tuolumne Meadows in the Sierra.
In the agricultural Central Valley, farmers say the storm interrupted some harvests and will delay some planting, but that's outweighed by the benefit of adding more moisture to the soil.
___
11:45 a.m.
Safety officials are at the site of a small California dam that had threatened to fail under heavy rains.
Spokesman Chris Orrock said Friday that state dam experts are inspecting Moccasin Dam, near Yosemite National Park in Tuolumne County. Operators are now draining the reservoir behind the weakened 60-foot (18-meter) high dam.
Authorities evacuated about three dozen people Thursday when water neared the top of the dam. Officials also spotted water seeping through the front of the earthen dam.
Authorities say the danger of immediate dam failure had passed by late Thursday.
The 88-year-old dam is part of the Hetch Hetchy water system that supplies water to 2.7 million people in the San Francisco Bay Area.
___
7:07 a.m.
A storm that pounded California with heavy rain has moved on, leaving only a few stray showers in its wake.
The storm swelled rivers, flooded streets and triggered water rescues statewide over three days but spared communities a repeat of the deadly debris flows that occurred during a January deluge.
Forecasters said Friday that Southern California will see mostly benign weather for the coming week. But the break in precipitation will be brief for northern and eastern California.
The first of two new weather systems will bring widespread rain and heavy snow in the mountains through the weekend.
___
12:04 a.m.
A powerful storm in California that swelled rivers, flooded streets and triggered water rescues throughout the state is on its last gasp.
The three-day storm spared communities a repeat of the deadly debris flows following a deluge earlier this year.
But it did dump record rainfall in some parts and unleashed flooding that led to dramatic rescues from Los Angeles in Southern California all the way to Folsom, some 400 miles (645 kilometers) to the north.
In San Luis Obispo County in central California, rescuers reported pulling 10 people from the Salinas River on Thursday.
All remaining flood warnings and watches were set to expire overnight Friday.