The Latest: Slain trooper's widow tells of devastated family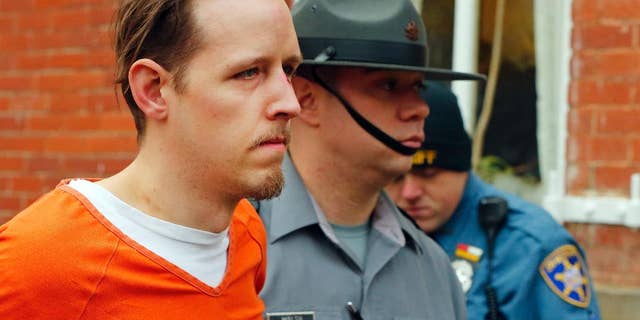 NEWYou can now listen to Fox News articles!
MILFORD, Pa. – The Latest on the death penalty hearing for the convicted killer of a Pennsylvania state trooper (all times local):
4:45 p.m.
The widow of a slain Pennsylvania State Police trooper has described the toll his death has taken on her and their two young sons.
Tiffany Dickson testified Thursday at a hearing to determine whether her husband's killer will be sentenced to death or to life in prison without parole.
Eric Frein (freen) was convicted of capital murder, terrorism and other offenses in the 2014 ambush that killed Cpl. Bryon Dickson II and critically wounded a second trooper.
Tiffany Dickson says her oldest son still wakes up at night screaming and has anger issues, while her youngest is defiant and hates school. She says she's sad and lonely and won't be able to grow old with her husband.
A prosecutor urged jurors to sentence Frein to death. His lawyer asked for mercy.
___
12:15 a.m.
A survivalist who shot and killed a Pennsylvania State Police trooper and injured another in an ambush at their barracks will now fight for his own life following his conviction on capital murder charges.
Eric Frein (freen) was convicted Wednesday of all 12 charges he faced more than two years after targeting the state police in a late-night sniper attack.
The focus now shifts to the impact of Frein's crimes. He killed Cpl. Bryon Dickson, a 38-year-old Marine veteran, and critically wounded Trooper Alex Douglass, who was shot as he came to the aid of his mortally wounded comrade and suffers from a range of health problems.
Prosecutors will ask the same jury that convicted Frein to send him to death row. The penalty phase begins Thursday afternoon.