The Latest: Severe storm brings damage to northern Mississippi, where tornado hit last week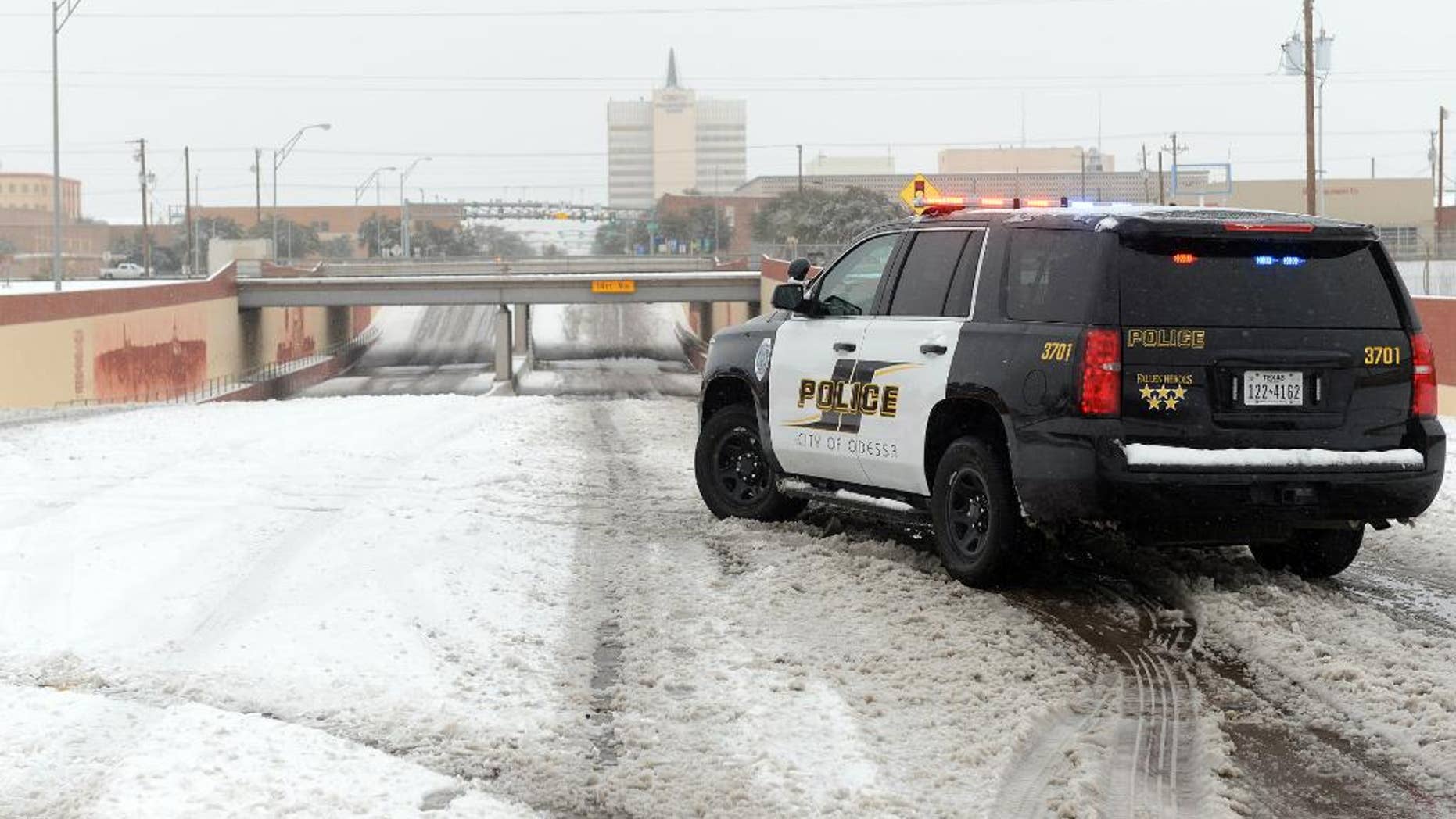 The latest developments on the severe storms across the U.S. (all times local):
8 a.m.
Officials in Mississippi are reporting downed trees across a highway and a roof blown off a house from a storm about 20 miles northwest of Hattiesburg.
Covington County Emergency Manager Greg Sanford says the damage happened before dawn Monday near the town of Seminary. The area was under a tornado warning at the time, but no tornado has been confirmed.
Warnings were posted as a squall line moved west to east across Mississippi.
Statewide, more than 6,800 power customers lacked electricity at 6 a.m. Monday.
Northern Mississippi residents are still cleaning up from a tornado that struck Wednesday and killed 10 people in the state.
___
6:50 a.m.
Oklahoma highway officials say many roads are impassable because of wintry weather, downed power lines or flooding.
Parts of western and central Oklahoma are under a winter storm warning until midday Monday, while flooding is a major concern in the southern and eastern part of the state.
The Oklahoma Department of Transportation says roads in northwest Oklahoma and Interstate 35 in central Oklahoma are slick and hazardous.
The National Weather Service says "disastrous" flooding will occur in eastern Oklahoma, where some areas received up to a foot of rain over the weekend. The state DOT says high water has caused the closure of some roads in counties in the southern and eastern part of the state.
___
6:30 a.m.
Parts of 11 states in the middle of the country are under a winter storm warning as the weather system that spawned tornadoes in Texas and flooding in Missouri moves on.
Meanwhile, the National Weather Service has issued a flash flood warning for southern and eastern parts of Missouri, including St. Louis, and a small section of northern Arkansas. Most of Arkansas, eastern Oklahoma, central Missouri and central Illinois are under a flood warning.
Forecasters say Iowa, Wisconsin, Michigan and parts of Minnesota, Illinois, Missouri, South Dakota, Nebraska, Kansas, Oklahoma and Texas will see winter weather conditions ranging from heavy snow to ice, accompanied by gusty winds.
Parts of the Southeast will see rain, while severe weather is possible in Mississippi.
___
2:30 a.m.
Blizzard-like conditions have led to the closure of most of Interstate 40 from Albuquerque east across the Texas Panhandle.
New Mexico State Police spokeswoman Sgt. Elizabeth Armijo said Sunday night that the stretch of interstate from Albuquerque to the Texas border would be closed through at least Monday afternoon. She urged travelers passing through New Mexico to use Interstate 10 instead.
In Texas, the Texas Department of Public Safety says only a small section of the highway around Amarillo remains open. Texas State Trooper Cindy Barkley says deteriorating conditions forced authorities to indefinitely close the highway for about 100 miles east of Amarillo to Oklahoma.
I-40 is the main east-west highway through the state's Panhandle.
The National Weather Service has issued a blizzard warning until 9 a.m. Monday for the Panhandle and several counties in New Mexico. Authorities say that even in areas where the warning has expired, residual blowing and drifting is expected and will make conditions dangerous.