The Latest: Residents allowed back into upper Florida Keys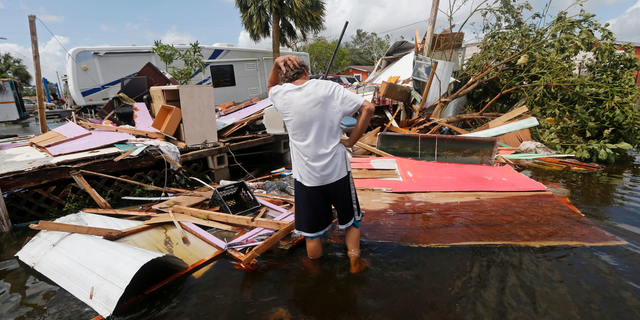 NEWYou can now listen to Fox News articles!
MIAMI – The Latest on Irma (all times local):
7:35 a.m.
Officials in the upper Florida Keys are allowing residents and business owners to return after Hurricane Irma.
People were able to return to Monroe County as of 7 a.m. EDT Tuesday.
In a Facebook posting, Monroe County officials said a yellow re-entry sticker or proof of residency or business ownership will be required.
County officials said a roadblock will be put around mile marker 74, where part of U.S. 1 was washed out by Hurricane Irma, which slammed into the state Sunday as a Category 4 storm. A road crew is expected to begin repairs Tuesday.
Officials warned returning residents that there are limited services available. Most areas are still without power and water and cellphone service is limited. Most gas stations in the Key Largo area are still closed.
Crews are working to clear U.S. 1, the only road that runs north/south through the Florida Keys.
County officials also said Mariners Hospital in Tavernier was expected to reopen Tuesday morning.
___
7:35 a.m.
More than 1.2 million customers in Georgia are without power after Irma swirled into the state.
Georgia Power will be starting to assess damages on Tuesday. The utility company says much of the state including coastal Georgia and metro Atlanta experienced the most outages after parts of the state received widespread damage caused by high winds and heavy rainfall.
Georgia Power says Fulton County currently has the most outages with 105,390.
By early Tuesday, Georgia Power has nearly 800,000 outages and EMC has around 466,000 customers without power.
The Metro Atlanta Rapid Transit Authority has resumed service Tuesday, but limited routes. The transportation company will have rail service running in 20-minute intervals.
___
7:35 a.m.
Tropical Storm Irma no longer exists but she left plenty of problems in South Carolina.
More than 220,000 customers were without electricity early Tuesday. Duke Energy reported the biggest problems with 100,000 customers without service. The biggest problems were in Anderson and Greenville counties.
The South Carolina Electric Cooperatives report that about 63,000 customers are without service. The biggest problems are in Oconee and Charleston counties.
South Carolina Electric & Gas Co. had 58,000 customers without service early Tuesday. The major problems were in Charleston and Beaufort counties.
Many schools in South Carolina are closed or opening on a delayed schedule Tuesday.
At least one person died. Fifty-seven-year-old Charles Saxon was killed Monday afternoon by a tree limb while clearing debris outside his home in Calhoun Falls.
___
7:15 a.m.
The 600 monkeys, birds and other animals at Miami's Jungle Island made it through Hurricane Irma just fine. But the park sustained a lot of tree damage.
The park's managing director Christopher Gould tells the Miami Herald the tree damage was worse than in Hurricane Andrew. "We have weeks of work ahead of us to overcome this type of damage," he said.
Gould said he's not sure when the park will reopen. He says workers are still estimating the damage.
After Hurricane Andrew, the park — which was then called Parrot Jungle — suffered nearly $5 million in damage and was closed for three weeks.
The animals rode out the storm secured in hurricane-proof enclosures. Gould says there were specialists on hand to help the animals deal with the stress. All of the animals were back in their habitats by Monday.
___
5:55 a.m.
The airport for Fort Lauderdale, Florida, has re-opened Tuesday morning after closing as Hurricane Irma pounded the state.
Operations at the airport resumed at 4 a.m. EDT, but a check of the airport's website Tuesday morning showed many flights still canceled.
Meanwhile, the Miami International Airport said in a tweet that it will resume operations on a limited basis Tuesday. But the airport said passengers should contact their airlines to check on flight status before coming.
Six deaths in Florida have been blamed on Irma, which first hit the state Sunday as a powerful Category 4 hurricane.
___
2:15 a.m.
Florida residents have begun to dig out in hurricane-scarred Florida and officials are slowly piecing together the scope of Irma's vicious path of destruction across the peninsula.
The fate of the Florida Keys, where Irma rumbled through with Category 4 muscle, remains largely a question mark. Communication and access were cut and authorities dangled only vague assessments of ruinous impact.
Florida Gov. Rick Scott called the storm "devastating" after emerging from a Monday fly-over of the Keys.
A Navy aircraft carrier was due to anchor off Key West to help in search-and-rescue efforts.
The governor described overturned mobile homes, washed-ashore boats and rampant flood damage.
Six deaths in Florida have been blamed on Irma, along with three in Georgia and one in South Carolina. At least 35 people were killed in the Caribbean.
___
HURRICANE NEWSLETTER — Get the best of the AP's all-formats reporting on Irma and Harvey in your inbox: http://apne.ws/ahYQGtb