The Latest: Prosecutors rest in Chicago officer's trial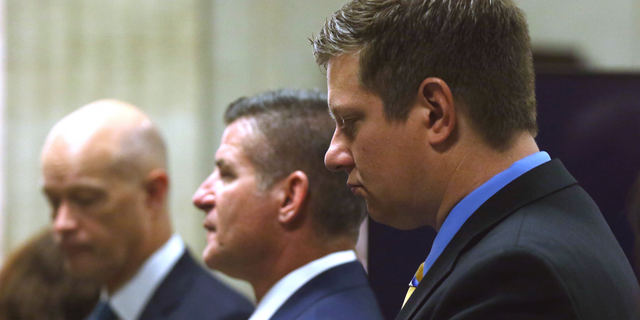 CHICAGO – The Latest on the murder trial of Chicago Police Officer Van Dyke in the shooting of teenager Laquan McDonald. (all times local):
1:50 p.m.
Prosecutors have called their last witness and rested their case in the murder trial of a Chicago police officer in the shooting death of black teenager Laquan McDonald.
Prosecutors made the announcement Thursday afternoon shortly after a use of deadly force expert testified that he did not believe the 2014 shooting was justified.
Attorneys for Officer Jason Van Dyke then asked the judge to issue what is called a directed verdict of not guilty. But Cook County Judge Vincent Gaughan denied the motion and brought jurors back into the courtroom to tell them that the trial would resume Monday.
That's when defense attorneys are expected to begin calling witnesses.
___
11:45 a.m.
An expert on police use of deadly force is testifying that a white Chicago police officer accused of murder in the death of Laquan McDonald did not need to shoot the black teenager.
Urey Patrick is a former FBI agent. He told the jury in officer Jason Van Dyke's trial on Thursday that he found that the "risk posed by Mr. McDonald did not rise to the necessity of using deadly force to stop it."
Patrick says a person must pose an imminent danger of serious injury or death to justify the use of deadly force. Video of the 2014 shooting shows McDonald was moving away from Van Dyke. Patrick says because of that, McDonald did not pose such a danger.
McDonald had a small knife. But Patrick says someone with a knife must be within reach of the person he intends to attack to pose such a danger.
___
11:30 p.m. Wednesday.
Prosecutors will continue to present evidence in the murder trial of Chicago police officer Jason Van Dyke who is charged in the 2014 shooting death of Laquan McDonald.
Prosecutors still haven't called to the stand several officers who were at the scene the night that the white officer shot the black teenager 16 times. It's unclear if two other officers who face charges of trying to cover up what happened to protect Van Dyke will testify Thursday.
Testimony on Wednesday came from some of the people who provided medical care to the 17-year-old McDonald, a forensics expert who testified about bullets and shell casings found at the scene, and a medical examiner who described the gunshot wounds as jurors viewed autopsy photos.