The Latest: Funerals for slain Ohio officers set for Friday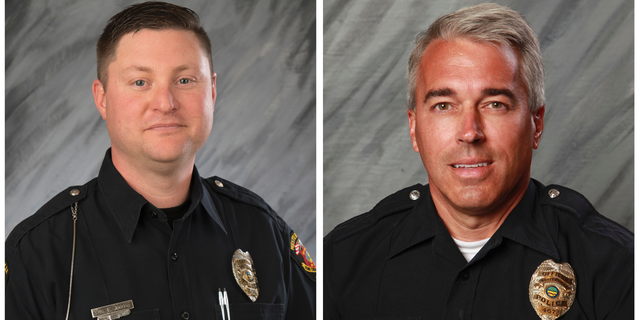 WESTERVILLE, Ohio – The Latest on the fatal shooting of two Ohio police officers (all times local):
4:45 p.m.
Funeral arrangements have been announced for two Ohio police officers shot to death over the weekend.
The services for 39-year-old Eric Joering and 54-year-old Anthony Morelli will be held Friday at St. Paul Catholic Church in Westerville in suburban Columbus.
The City of Westerville will livestream the service.
The officers were shot while responding to a hang-up 911 call at a townhome Saturday afternoon.
The 30-year-old Quentin Smith faces two preliminary charges of aggravated murder. He was also shot and is hospitalized. He hasn't had a hearing yet and it's unclear if an attorney has been appointed.
Westerville Police Chief Joe Morbitzer said Tuesday that plans have been made for Joering's police dog to remain with his widow and daughters.
___
7:55 a.m.
The families of two Ohio police officers fatally shot while responding to a 911 hang-up call say they're grateful for their community and for the outpouring of support shown in the midst of their loss.
The officers from the northeast Columbus suburb of Westerville, 39-year-old Eric Joering and 54-year-old Anthony Morelli, were shot Saturday at a townhome where the suspect was wounded.
In a statement , the officers' families request privacy and say they need time to heal.
Westerville hasn't yet shared details on funeral plans for the officers.
Officials have said the wounded 30-year-old suspect, Quentin Smith, is expected to survive. He has been charged with aggravated murder. Court records didn't show an attorney for him.
A man accused of providing Smith with a gun also was arrested.