The Latest: Firefighters protect seaside California towns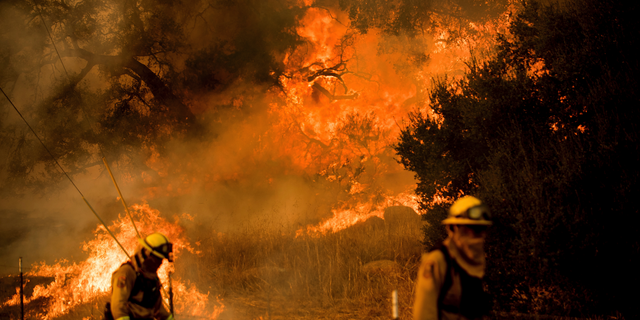 NEWYou can now listen to Fox News articles!
LOS ANGELES – The Latest on California wildfires (all times local):
5:30 a.m.
Crews aided by calm overnight winds kept a wall of flames from descending from mountains into coastal towns after a huge Southern California wildfire exploded in size over the weekend.
Thousands remain under evacuation orders Monday as the fire churns west through foothill areas of Carpinteria and Montecito, Santa Barbara County seaside towns about 75 miles (120 kilometers) northwest of Los Angeles. Much of the fire's new growth occurred on the eastern and northern fronts into unoccupied areas of Los Padres National Forest.
The fire, which had already destroyed more than 750 buildings, burned six more in Carpinteria on Sunday. It's just 10 percent contained after burning nearly 360 square miles (930 square kilometers).
Officials say the blaze, which broke out a week ago in neighboring Ventura County, is now the 5th largest in California history.