The Latest: Arizona suspect had gun despite past arrest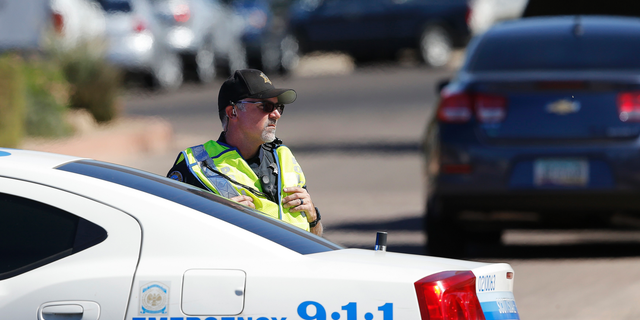 NEWYou can now listen to Fox News articles!
SCOTTSDALE, Ariz. – The Latest on the killings of six people in the Phoenix area (all times local):
12:05 a.m.
Police say the killer of six people in the Phoenix area, including a prominent forensic psychiatrist who testified against the shooter in a divorce case years ago, used a gun that he legally owned despite a previous domestic violence arrest.
Thomas Mangan, a spokesman for the Bureau of Alcohol, Tobacco and Firearms, said Tuesday that a .40-caliber Glock handgun owned by suspect Dwight Lamon Jones was linked to some of the attacks.
Records show Jones was arrested on suspicion of domestic violence in 2009 but the status of the case was unclear.
Mangan said the incident didn't legally prevent Jones from buying the gun that has been recovered by authorities.
Investigators are still examining remnants from Jones' room at the extended-stay hotel where he shot and killed himself.
Authorities say he targeted some people who were linked to his 2010 divorce
___
7 a.m.
Authorities have identified two people found dead in a suburban Phoenix home and among the victims of six killings attributed to a man who killed himself as police closed in.
Scottsdale police Monday night identified the couple found fatally shot in a home in the Fountain Hills suburb as 70-year-old Mary Simmons and 72-year-old Bryon Thomas. They were found dead early Monday morning.
Police said they had probable cause to link all six killings to the dead suspect, Dwight Lamon Jones.
They have not disclosed a connection between Jones and the victims in Fountain hills.
Two of the other victims were paralegals for a law firm that represented Jones' wife in their divorce case, one was a psychiatrist who testified against Jones in court in the divorce case and the fourth was a marriage-and-divorce counselor apparently was targeted in a case of mistaken identity.
___
12 a.m.
It took a hunch from a retired police detective to find a man suspected of fatally shooting six people in the Phoenix area.
Authorities say 56-year-old Dwight Lamon Jones killed himself Monday when police approached his room at an extended-stay hotel in suburban Scottsdale.
Jones' ex-wife says her current husband made the connection between her divorce and the crime scenes and notified police of his suspicion Saturday night.
The slayings began last Thursday with the fatal shooting of Dr. Steven Pitt, whose testimony was cited in the couple's November 2010 divorce.
Authorities say Jones' victims included two paralegals who worked for the law office that represented the suspect's ex-wife, a marriage counselor in an apparent case of mistaken identity and another man and woman who have not been identified.