The Latest: Arizona police investigate report of shots fired from 1 vehicle to another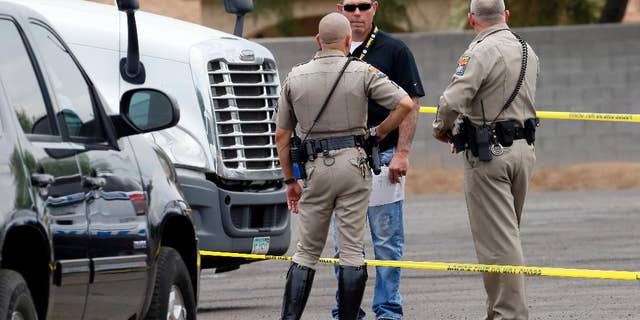 NEWYou can now listen to Fox News articles!
PHOENIX – The latest developments on a series of freeway shootings in the Phoenix area. All times local (PDT):
6:39 a.m.
Arizona state police are investigating a report of possible shots being fired on a Phoenix freeway.
The state Department of Public Safety says shots were reportedly fired from one vehicle at another Friday morning but that nothing has been confirmed at this point.
No additional information was released and circumstances of the possible shooting aren't known.
Television station KNXV reported that DPS vehicles were seen with a red car stopped alongside Interstate 17 in central Phoenix and that the car was then escorted to a secure area at the agency's nearby headquarters.
Authorities have confirmed that 11 vehicles have been shot at in the Phoenix area, with most of them occurring on freeways.
The 11th incident occurred Thursday morning when authorities found a bullet hole in a commercial truck.