The Latest: Another use of force incident for Mesa police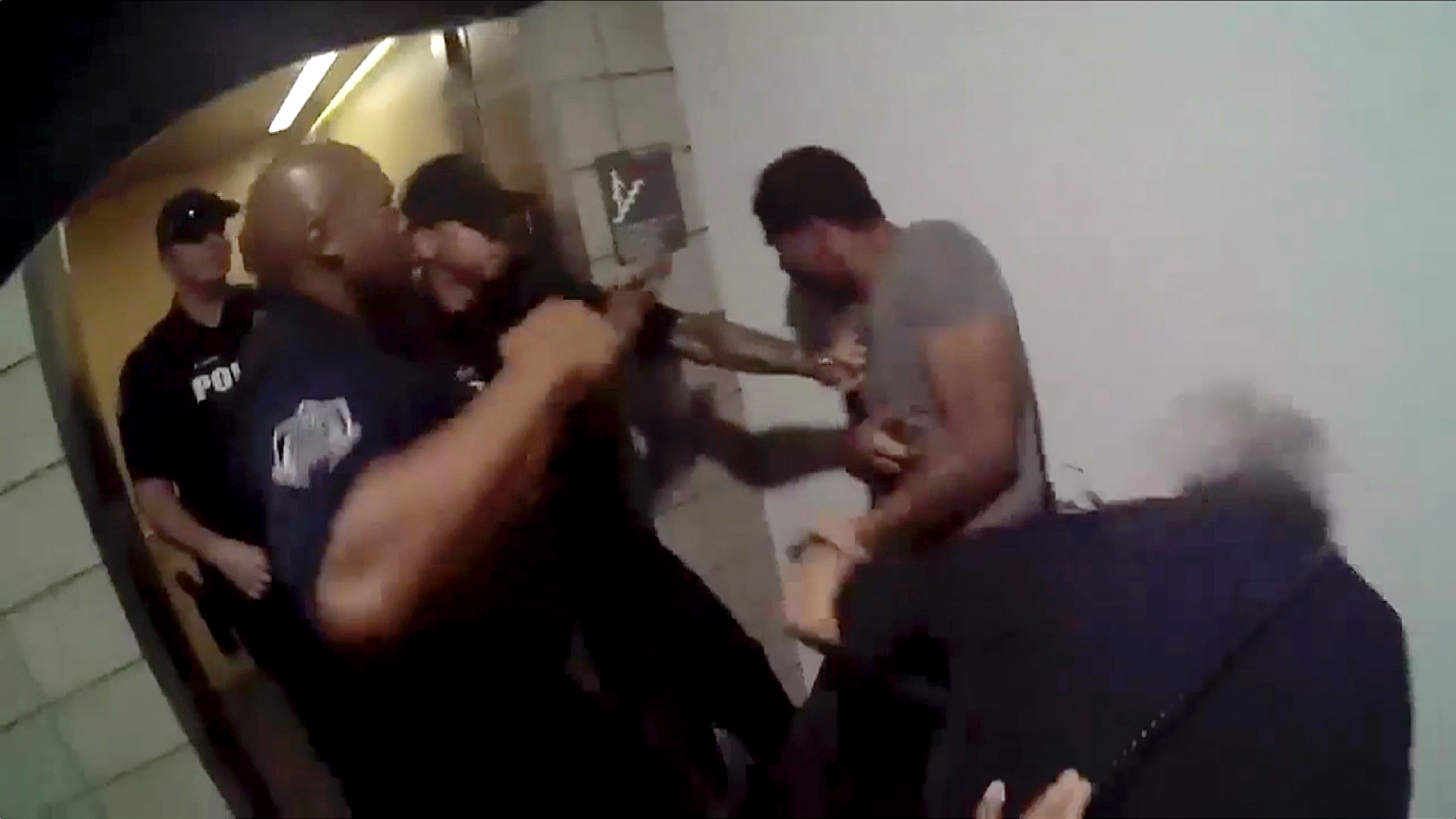 PHOENIX – The Latest on the beating of an Arizona man by police that was caught on video (all times local):
7:30 p.m.
Police in suburban Phoenix say they're investigating another use of force incident involving their officers last month.
Mesa police officials announced Thursday night that two officers have been placed on administration leave over the May 17 arrest involving a teenager on suspicion of armed robbery and aggravated assault with a deadly weapon.
It comes after surveillance video from a May 23 incident at a Mesa apartment complex shows several officers beating a 33-year-old man who never appears to threaten or resist them.
Three officers and a sergeant are on leave while the department investigates that case.
Body-worn camera footage of the new incident isn't immediately available.
Mesa Police Chief Ramon Batista scheduled a news conference Friday afternoon on the details of the latest use of force investigation and his plans to address department's policies, procedures and training moving forward.
____
4 p.m.
The pastor of an unarmed Arizona man who was beaten by police while standing against a wall says the officer's claim that the man's posture posed a threat "doesn't pass the smell test."
Pastor Andre Miller on Thursday questioned the police account about their treatment of 33-year-old Robert Johnson on May 23 in Mesa.
Johnson's attorneys said there was no reason to beat Johnson, who in videos is seen standing against a wall when officers start to punch him.
The videos have raised questions about police conduct at a time when departments nationwide are under scrutiny for use of force.
Police say officers were responding to a call from a woman who said her ex-boyfriend was trying to break into her apartment.
Police found the ex-boyfriend along with Johnson, who says he was helping a neighbor get something from the apartment. Both were detained.
Three officers and a sergeant are on leave pending an internal investigation.
____
12:08 p.m.
Police involved in the beating of an Arizona man who on video doesn't appear to resist or attack officers say his body language was projecting that he was prepping to fight.
A report from the May 23 incident in the Phoenix suburb of Mesa states the man, 33-year-old Robert Johnson, was "verbally defiant and confrontational."
But Johnson's attorney says his client was not a threat and had already been searched.
The incident was captured on a surveillance camera at the apartment complex where it happened. Mesa police on Wednesday afternoon released their own footage from police-worn cameras.
The audio-free surveillance footage shows Johnson standing against a wall, looking at his phone. Officers approach Johnson and punch him numerous times. They pull him to the ground and flip him over. Johnson never appears to threaten or resist the officers.