The Latest: Ann Coulter tells AP 'Berkeley canceled'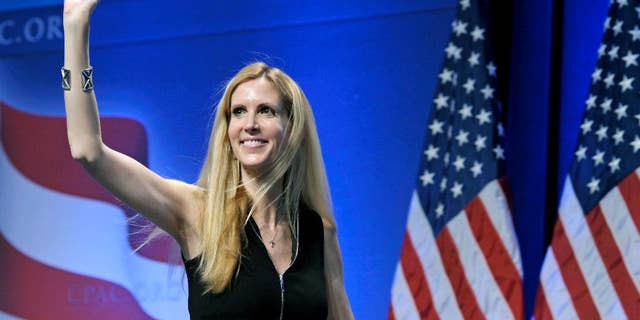 NEWYou can now listen to Fox News articles!
BERKELEY, Calif. – The Latest on Ann Coulter's appearance at UC Berkeley (all times local):
11:45 a.m.
Ann Coulter says that her speaking event at the University of California, Berkeley is "canceled" but she is implying that she might still travel to the city.
In an email to The Associated Press, the conservative pundit wrote "Berkeley canceled" when asked to confirm her planned appearance on the campus Thursday.
She added, however, "I have my flights, so I thought I might stroll around the graveyard of the First Amendment."
Coulter was invited by the campus Republicans to speak at Berkeley.
UC Berkeley officials say they are bracing for possible violence on campus whether the conservative pundit comes to speak or not.
___
10:40 a.m.
The University of California, Berkeley says it's preparing for possible violence on campus whether Ann Coulter comes to speak or not.
The conservative pundit has hinted she might cancel her planned appearance Thursday amid growing concerns of violence. She told Florida-based radio station 850 WFTL on Wednesday, "I still wanted to do it but I'm running out of options here."
Campus spokesman Dan Mogulof said UC Berkeley officials had not heard directly from Coulter on Wednesday. But he said even if she cancels, some groups that support or oppose her could still turn out on campus.
He said police were taking necessary steps to protect the campus but he declined to elaborate.
Campus Republicans invited Coulter to speak at the campus. They did not immediately respond to requests for comment.