Texas volunteers find severed head at lake, police say
A mother-daughter duo found human remains while they were working as volunteer cleaning up a Texas lake on Friday, authorities said.
The volunteers for Texas Adaptive Aquatics made the grisly discovery while cleaning the area near Lake Houston. They discovered a severed head in a plastic bag, according to FOX26 Houston.
"[We] had 300 volunteers come out to volunteer and one of them found a gun this morning and then about 20 minutes later, someone found a head, a human head," Roger Randall, with Texas Adaptive Aquatics, told FOX26.
He added, "It was a young lady, her and her mom were out helping cleanup and she was picking the trash and found a bag, a plastic bag and it was pretty heavy and she picked it up and found that it was a human head with hair."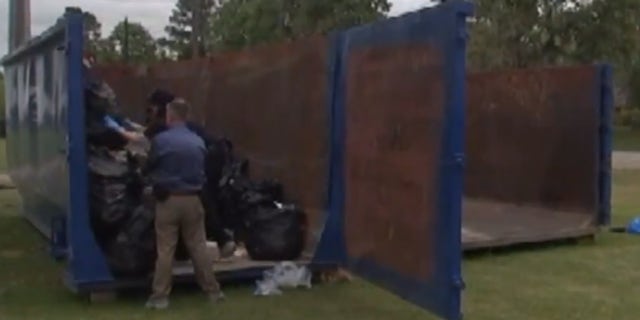 The volunteers said they believe the head was of a young women with red hair. Homicide detectives could not confirm the age, sex or ethnicity of the individual, according to FOX26.
WOMAN PLEADS GUILTY TO TRYING TO MURDER HUSBAND WITH MINIVAN
It's also unclear if the gun that was also found during the clean up related to the severed head.
"I'm here, we'll work with medical examiner's office to identify the remains and who they belong to and then we will go with our missing persons database and go that route of missing persons in the area," said Andrew Barr, a Houston Police Department homicide detective.