Texas teacher fired after giving student mock 'terrorist' award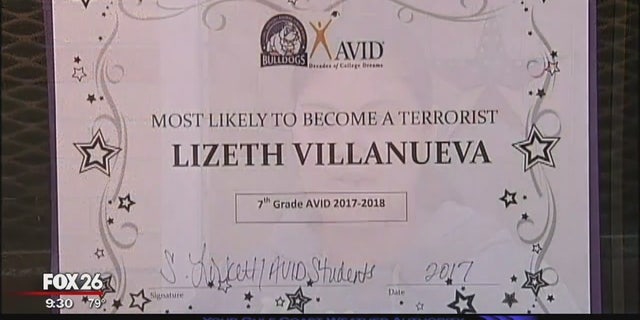 A Texas teacher who was suspended after presenting a student with a mock "most likely to become a terrorist" award has been fired.
"We have concluded our investigation and the teacher responsible is no longer employed by the district," the Houston-area Channelview Independent School District said in a statement Wednesday.
'KILL SOME JEWS' TWEET GETS TEXAS PRE-SCHOOL TEACHER FIRED
The seventh-grade teacher, who has not been named by the school district, handed the award to Lizeth Villanueva, 13, a day after the deadly terrorist attack at an Ariana Grande concert in Manchester, England.
Villanueva said a group of teachers were giving out the awards as a joke, as part of a mock ceremony ahead of summer vacation.
BALTIMORE TEACHER FIRED AFTER CALLING BLACK STUDENTS THE N-WORD
Other certificates students received included "most likely to become homeless in Guatemala," "most likely to cry for every little thing" and "most likely to blend in with white people."