Texas church shooting youngest victim was 18-month-old, suspect had threatened mother-in-law
The Texas gunman who stormed into First Baptist Church on Sunday -- killing 26 people, including an 18-month-old -- had previously threatened his mother-in-law, who frequented the church but was not in the pews on Sunday, officials said.
Texas Department of Public Safety Regional Director Freeman Martin said "there was a domestic situation" within gunman Devin Patrick Kelley's family, and he threatened his mother-in-law in text messages.
"The suspect's mother-in-law attended this church," Martin told reporters.
Martin added the massacre was not believed to be racially or religiously motivated.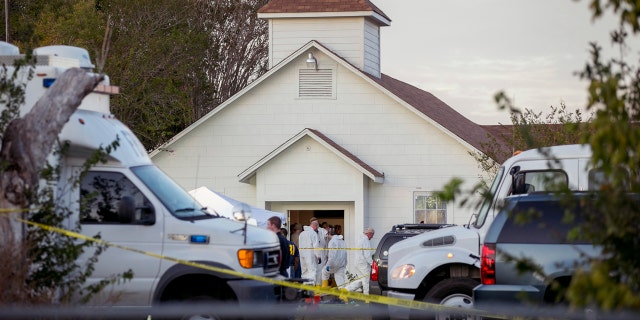 Kelley was dressed entirely in black during Sunday's attack and also wore a face mask replete with a white skull, Martin said.
"He was obviously suspicious to others based on how he was dressed in all black," he said. "He was wearing a face mask with a white skull on it."
"There was a domestic situation going on within this family. The suspect's mother-in-law attended this church."
After his rampage at the church, Kelley engaged in a shoot-out with a neighbor who engaged the gunman.
"A local resident who lives across the street from the church heard what was going on," Martin said.
Kelley was hit at least once in the shoot-out, and jumped into an SUV to flee the scene, followed by 2 Good Samaritans.
During the pursuit, Martin said the 26-year-old called his father to tell him he was shot, and "didnt think he was going to make it."
Officials believe Kelley died of a self-inflicted gunshot wound after he crashed his car.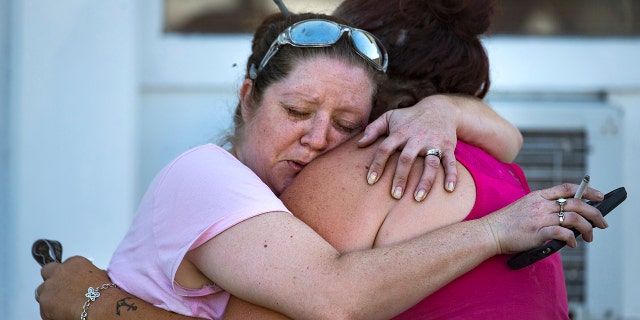 Of the 26 killed in the rampage, 23 people were found dead inside the church, two outside the building and one later died at the hospital, according to Martin. The victims ranged in age from 18 months to 77 years old, and one of those who died was pregnant.
A total of 20 people were were injured in the shooting, 10 of which are still hospitalized in critical condition. Those treated in hospitals ranged in age from 5 to 73, according to Martin.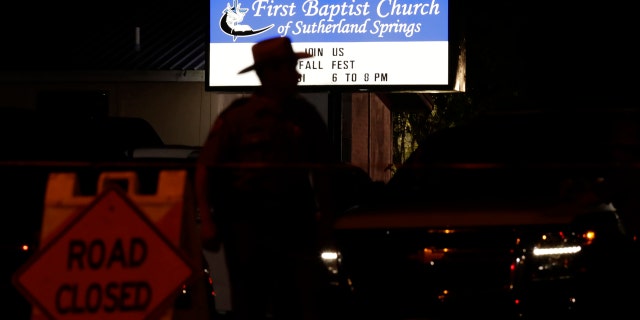 There were three guns recovered from the scene of the rampage, according to ATF Houston Special Agent in Charge Fred Milanowski.
Milanowski added that officers recovered a Ruger AR-556 rifle at the church, and two additional handguns were recovered from the vehicle driven Kelley — a Glock 9mm and a Ruger .22-caliber.
Martin said Kelley did not have a license to carry a concealed handgun, but had a "non-commissioned, unarmed private security license similar to a security guard at a concert-type situation."
The church had an active presence on social media through Facebook and YouTube, with videos posted of services, FOX San Antonio reported.
Martin told reporters Monday that part of the massacre was recorded.
"I can tell you there is video recording from inside the church that has been secured," he said, without elaborating on the contents of the video.
In a video of its Oct. 8 service, a congregant who spoke and read Scripture pointed to the Oct. 1 Las Vegas shooting a week earlier as evidence of the "wicked nature" of man. That shooting left 58 dead and more than 500 injured.
Gov. Greg Abbott called Sunday's attack the worst mass shooting in Texas history. It came on the eighth anniversary of a shooting at Fort Hood, where 13 people were killed and 31 others wounded by a former Army major.
The previous deadliest mass shooting in Texas had been a 1991 attack in Killeen, when a mentally disturbed man crashed his pickup truck through a restaurant window at lunchtime and started shooting people, killing 23 and injuring more than 20 others.
The University of Texas was the site of one of the most infamous mass shootings in American history, when Marine sniper Charles Whitman climbed the Austin campus' clock tower in 1966 and began firing on stunned people below, killing 13 and wounding nearly three dozen others. He had killed his wife and mother before heading to the tower. One victim died a week later, and medical examiners eventually attributed a 17th death to Whitman in 2001.
The Associated Press contributed to this report.