Texas Christian University student accused of hazing found dead on sidewalk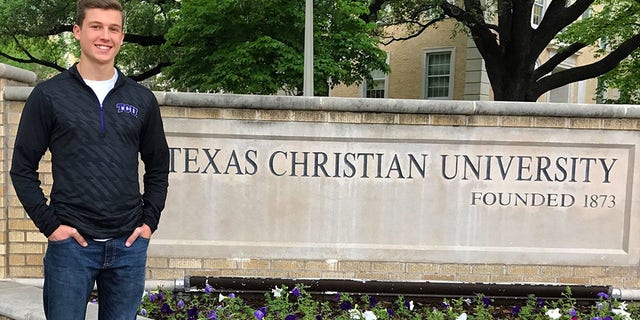 NEWYou can now listen to Fox News articles!
A Texas Christian University student who was arrested in September on hazing charges was discovered dead on a campus sidewalk Thursday.
Andrew Walker, 19, of Westford, Mass., died of an apparent suicide caused by "blunt force trauma from a fall," the Tarrant County medical examiner's office stated, according to Dallas Morning News. Police said Walker jumped from the "fourth floor of the apartment complex parking garage," WFAA reported.
Walker and Christopher Thorne Barksdale, 19, were arrested last month on hazing charges that involved the Kappa Sigma fraternity. The pledges were allegedly forced to drink large quantities of alcohol. One freshman fraternity pledge allegedly was taken to the hospital after having a high blood-alcohol level.
DALLAS MAN CHASING RELATIVE'S KILLER DIES IN CAR CRASH
Following the incident, the chapter was suspended from the school's campus by the university and Kappa Sigma's national office, FOX 4 reported.
Walker was slated to appear in court on Dec. 3 for the hazing charge and a DWI arrest, Dallas Morning News reported. The Star-Telegram reported that Barksdale was expelled from the school.
DALLAS DENTIST MURDER GETAWAY DRIVER TESTIFIES AGAINST GUNMAN, SAYS MASTERMIND WAS JEALOUS
The school released a statement saying they were "saddened" by Walker's death.
"Texas Christian University is deeply saddened by the tragic loss of one of our students, Andrew Walker," the statement read. "We are a small campus community and a death among our Horned Frog family wounds us all. We send our heartfelt thoughts, prayers and condolences to the family in this difficult time. Counselors and university ministers stand ready to assist students, faculty and staff who need support in the days and weeks ahead."