Texas boy, 10, pens hilarious thank you note to Fulshear officer who pulled mom over: 'She deserved it'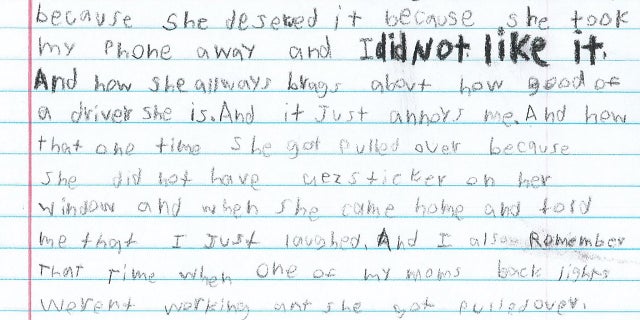 Police officers in Texas were so tickled by a 10-year-old boy's handwritten thank you letter that they decided to share it on social media.
"We received the letter last Friday from a young man who attends Huggins Elementary School in Fulshear," Captain Mike McCoy with the Fulshear Police Department told Fox News. "During National Police Week, students from this school write us many letters of support. This one, obviously, stood out."
The boy's letter to a "Fulshear Police Officer" expressed gratitude for his mother getting stopped.
"Thank you for pulling my mom over because she deserved it because she took my phone away and I did not like it and how she always brags about how good of a driver she is," the student said. "And it just annoys me."
But that wasn't the only incident he shared.
TEXAS DEPUTY GRABS RUNAWAY 'BULL BY THE HORNS,' ESCORTS IT HOME
"One time she got pulled over because she did not have a ezsticker on her window and when she came home and told me that I just laughed," the boy continued.
He went on to reference "that time when one of my moms back lights weren't working and she got pulled over."
The police department decided to share the "completely honest" note with their nearly 20,000 Facebook followers, explaining that they receive letters from Huggins Elementary School students every year during police week.

"We always love reading them. Some of them are very funny due to their wonderful honesty," the department commented on its post.
Residents applauded the boy's hilarious letter and thanked the police department for lighting up their week.
"All of us parents are wondering which kid said this. I know it wasn't mine!" one parent joked.
"This should be the next Fulshear mayor," another suggested.
"Thanks for sharing. Made my day," one user added.