Tensions boil over between missing Iowa boy's father, stepfather at press conference: 'I blame you!'
The father and stepfather of a missing Iowa boy got into a scuffle during a news conference on Thursday, resulting in the former's arrest.
Authorities in Iowa said on Thursday they believed they recovered the remains of Jake Wilson, a 16-year-old boy with autism who was last seen on April 7.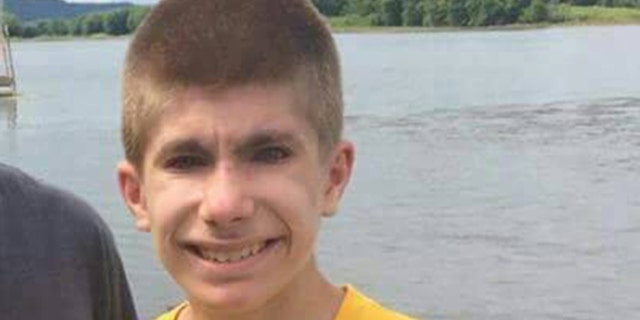 He was last seen walking a few blocks from his home along Wolf Creek, which winds through La Porte City, Iowa. His family said he didn't have his glasses on at the time, adding he has the mental capacity of a nine-year-old.
During the news conference, Jake's biological father Mike Wilson lunged toward the teen's stepfather, Jeremy Neiswonger, yelling "I blame you!"
POLICE SAY REMAINS ARE 'CONSISTENT' WITH MISSING IOWA BOY
Authorities were seen separating the two men. Wilson was arrested on "two counts of misdemeanor assault" following the incident, The Gazette reported. Sheriff Anthony Thompson said he was going to issue a no-contact order between the two families, according to KCRG.
Police said human remains were discovered in a creek Tuesday by recreational kayakers in an area that had been searched repeatedly over the last four months.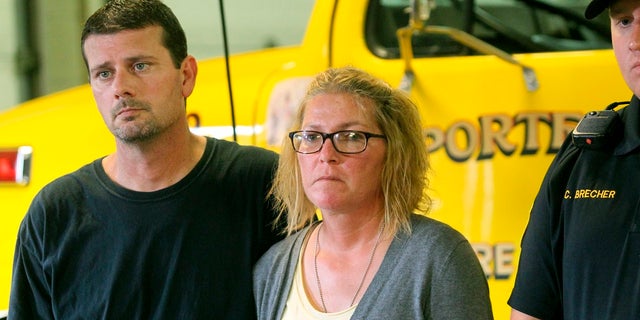 La Porte City Police Chief Chris Brecher said testing by the medical examiner shows the remains are "consistent with what we're looking for." He said investigators were not yet in any position to determine whether foul play was involved.
MOLLIE TIBBETTS' FATHER SAYS PENCE MEETING WAS 'TOUCHING' AS 200 NEW TIPS POUR IN
The boy's disappearance had prompted a search involving the FBI, state and local police officers, and hundreds of volunteers. His smiling face was plastered on missing posters throughout the region. Jake was described as a gentle lover of nature who simply never came home from a walk on a spring day.
The discovery comes amid a massive search for 20-year-old college student Mollie Tibbetts who disappeared from the small town of Brooklyn, Iowa, around 40 miles away, on July 18. Thompson noted the Tibbetts case has renewed interest in the plight of Wilson and other missing Iowa residents in recent weeks.
Fox News' Samuel Chamberlain and the Associated Press contributed to this report.