Tennessee school yearbook photo with Nazi costumes prompts apology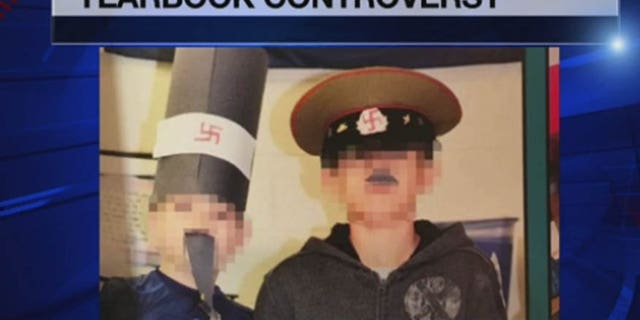 A Tennessee school district is under fire from parents after a photo of two students dressed as Nazis ended up in a yearbook.
The picture in the Houston Middle School yearbook showed two boys wearing hats with the Nazi swastika symbol.
"We understand the concern and are reviewing the incidents with students and staff who were involved," the Germantown Municipal School District told Fox 13. "The Germantown Municipal School District does not condone the placement of photos of this nature in any school publication and apologizes to anyone who was offended by the insensitive image."
AMERICAN FLAG FLAP FORCES VIRGINIA HIGH SCHOOL STUDENTS TO SHOW THEIR PATRIOTISM
Principal Liz Dias said in a statement to parents that the photo was taken during a roleplaying lesson designed to "examine the racism and prejudice that occurred in Germany before and after Hitler became dictator.
"Through role-playing, the students were asked to draw conclusions about unjust laws in Nazi Germany," Dias said. "This activity led to students reflecting on discrimination today and how to confront unjust laws in our society."
The school district has offered refunds, a spokesman said.
"An image without context is understandably upsetting to a lot of people," Rabbi Katie Bauman of Temple Israel in Memphis told localmemphis.com.