Tennessee knit shop owner ask women's rights marchers to 'shop elsewhere'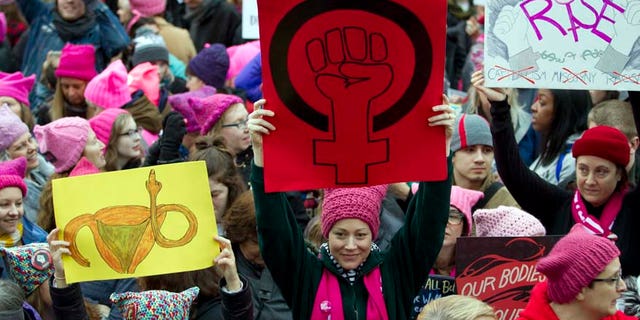 A Tennessee knit shop owner is receiving backlash on social media after posting comments about the recent Women's March on Washington.
In a Facebook post on January 24 , The Joy of Knitting owner Elizabeth Poe called the tone of the protest "absolutely despicable" and wrote "I ask that [if you] want yarn for any project for the women's movement that you please shop for yarn elsewhere."

Many Women's March on Washington participants wore so-called "pussy-hats" made from pink yarn. The hats were a reference to President Donald Trump's previous comments about grabbing women by the genitals.

Poe says she does not want what she sees as "vulgar, vile and evil" rhetoric associated with her store" in Franklin.

"As the owner of this business and a Christian," Poe continued, "I have a duty to my customers and my community to promote values of mutual respect, love, compassion, understanding, and integrity."

The Facebook post had over 12,000 comments as of Friday morning. The Tennessean reports Poe was initially reluctant to write the post but she became upset after hearing Madonna's speech and by what she saw some women wearing at the march in Washington, D.C.

"This is starting to undermine their efforts," Poe told the Tennessean. "The topless women? I think if you want to get your point across you need to do it the right way and I just think that walking around dressed as a vulva is gross. Hatred is not acceptable speech."

Although Poe's shop has received many negative reactions and boycott threats from Facebook users, she told Fox News she was very busy with orders from across the country.

"I am open for business and busier than a bee," Poe told Fox News via a Facebook message. "Orders from all over the United States. Go figure," she wrote.

She continued saying, "people marching for love, women's rights, equal rights, equal pay, do nothing [but] spew hatred on [my] [Facebook] page."

Comments on the shop's Facebook page ranged from anger to support.

"Honey, I don't accept complimentary [judgment] with my yarn purchases," one Facebook user said. "You don't need to worry I'll ever sully your establishment."

"You are an example of a strong woman with strong beliefs voicing a strong opinion," another Facebook user wrote in support of Poe. "I applaud you for it."

Some questioned the timing of Poe's Facebook post since it occurred after the marches.

"Smart posting this [after] the march," one user wrote. "You already got all the money from these people for their hats. My [Planned Parenthood] donation is going to be in your name!"

Others took the opportunity to extend an olive branch to Poe.

"In spite of your feelings, you're welcome at the next march," one Facebook user responded. "Because we value mutual respect, love, compassion, understanding and integrity."

Poe told the Tennessean that she does not plan on deleting the Facebook post since she is pro-rights.

"I'm pro-rights, but I have to draw the line with the trajectory this movement has taken," Poe told the Tennessean. "They're alienating their supporters. I'm not going to stop [supporting women] but I'm not going to condone that."