Tennessee deputy serving warrant struck 2-year-old with police car, family claims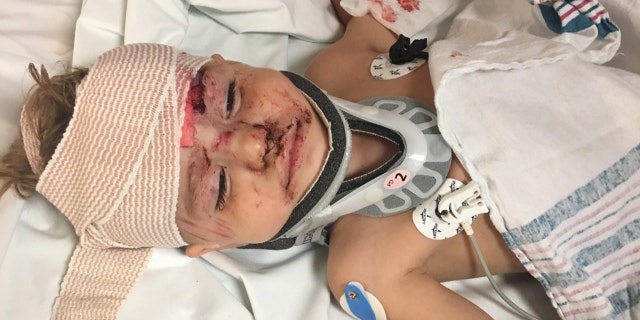 An investigation was launched after a Tennessee sheriff's deputy was accused of hitting a 2-year-old boy with his cruiser Friday.
Relatives of Kayden Blodgett claim that a county cop hit the toddler outside his family's home in Livingston, according to WSMV-TV. Overton County Sheriff John Garrett said the incident was still under investigation.
An Overton County sheriff's deputy was serving a warrant at a home when an incident involving the child occurred, Garrett told the station. The boy suffered head wounds and was airlifted to a hospital.
Joshua Blodgett, the boy's father, told News Channel 5 that the accident occurred after he had spoken with the deputy.
"And then he got back into his car while I was talking to the other deputy, and I guess he took off and didn't look around, look at his surroundings or anything. I guess he hit my son, and he went about 10 feet that way, and then stopped and my son ran to me," Blodgett said.
Cassie Blodgett, the boy's mother, said her son's face was bloody after he was hit.
"So I just ran outside, and before I could even ask what happened, I saw his face covered in blood," she said.
Kayden Blodgett received stitches in his arm and head. Pictures on Facebook showed the boy in a hospital bed with bandages on his body. The boy has been released from the hospital.
"We can't thank everyone enough for all the thoughts and prayers that have been sent Kayden's way," Cassie Blodgett wrote on Facebook. "What happened was definitely tragic but it could've been so much worse than what it was, and we're so blessed to still have him here. We have a long road ahead of us and this is something we will carry with us forever, but everything will eventually heal and get better. Kayden is home now and feeling way better than we could've hoped for, but more prayers are always welcome."
Tennessee Highway Patrol is expected to assist in the investigation Monday.