Teen kidnapped by family friend exchanged calls, texts with abductor, warrants show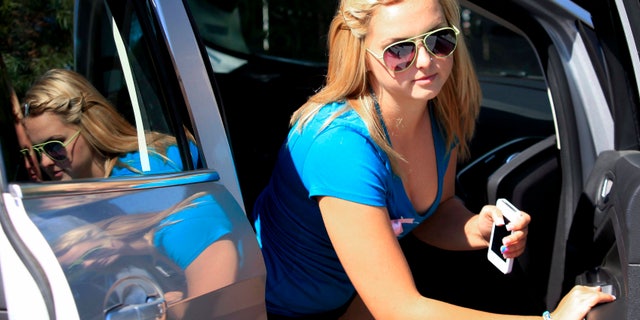 NEWYou can now listen to Fox News articles!
A California man who killed the wife and son of a family friend before taking the man's 16-year-old daughter to the Idaho wilderness, exchanged calls and texts with the abducted teen prior to the murders and had letters from her, warrants reportedly show.
According to the Los Angeles Times, warrants from the San Diego County Sheriff's office show Hannah Anderson exchanged 13 phone calls or text messages with James DiMaggio on Aug. 4, the day she vanished. The warrants also show that letters from Anderson to DiMaggio were found in DiMaggio's home, along with duct tape and handcuff boxes, as well as a Yosemite camping printout, cut electrical cords, model rocket containers and two used condoms.
Law enforcement authorities would not reveal the content of the letters, the paper reported.
[pullquote]
Still, San Diego County Sheriff's spokeswoman Jan Caldwell said, "Hannah was a victim in every sense of the word. We cannot be more clear on that,'' according to Reuters.
"Our follow-up investigation has not changed that sentence," she said in an email.
FBI agents shot and killed DiMaggio, 40, and rescued Anderson last Saturday in the Idaho mountains after an extensive manhunt. The two were found after horseback riders told law enforcement authorities they had seen the pair.
DiMaggio set up a trap by asking the family to come to his home so he could say goodbye before he moved to Texas, law enforcement authorities allege, according to the paper.
Photos and a journal, as well as computers and other papers, were seized from the Andersons' Lakeside apartment, additional warrants showed. According to Reuters, video cameras and iPods also were removed by investigators from the family's home
Christina Anderson, 44, Hannah Anderson's mother, was found dead in the garage at DiMaggio's home in Boulevard, Calif. Her dog was also found dead. Hannah Anderson's 8-year-old brother Ethan was identified through DNA when remains were found in DiMaggio's log cabin after a fire destroyed the property.
The telephone and Facebook accounts belonging to Lora DiMaggio Robinson, DiMaggio's sister, were also searched by detectives, Reuters reported.
Brett Anderson, Hannah Anderson's father, has said he was baffled by the actions of DiMaggio, who had served as the best man at Brett and Christina Anderson's wedding, Reuters reported.
The Associated Press contributed to this report.