Teen girl killed, 3 others injured in downtown Oakland shooting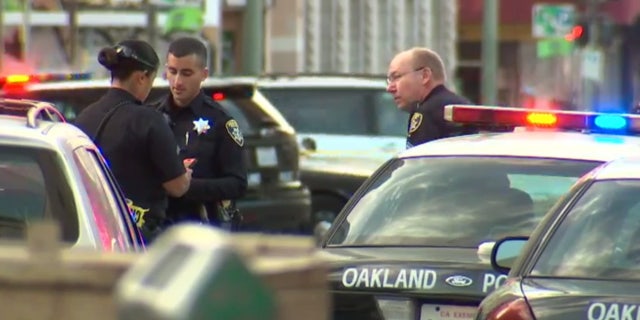 NEWYou can now listen to Fox News articles!
A 16-year-old girl was killed and three other people suffered gunshot wounds during a vigil in downtown Oakland Tuesday afternoon, authorities said.
The number of people shot fluctuated throughout the evening. Oakland police initially said five people had been shot. The department then corrected the information to six people wounded, and finally said a total of four people had been shot, including the deceased victim.

The three victims who were shot, described as men and women aged from their mid-teens to early 20s, were all listed in stable condition. Three others received unspecified injuries, police said.
The East Bay Times reported that officers responded to the shooting scene at the intersection of 13th and Franklin Streets just after 5:40 p.m. local time. Police spoksman Kyle Hazen said a vehicle was seen fleeing the area of the shooting.
The San Francisco Chronicle reported that the shooting happened near a theater that was hosting a vigil for two teens who drowned in a Stanislaus County reservoir over Memorial Day weekend.
Oakland Police Lt. Carlos Gonzalez told the paper that witnesses reported seeing two gunmen who opened fire along half of a city block.
A witness who requested anonymity told the paper that vigil attendees were caught in a crossfire.
Another witness Mason Stone, told the San Francisco Chronicle that he was walking a block away when he heard a series of gunshots.
"And then basically there were people running every which way," Stone told the paper.
Click for more from SFGate.com.