Teen accused of vandalizing Holocaust memorial faces judge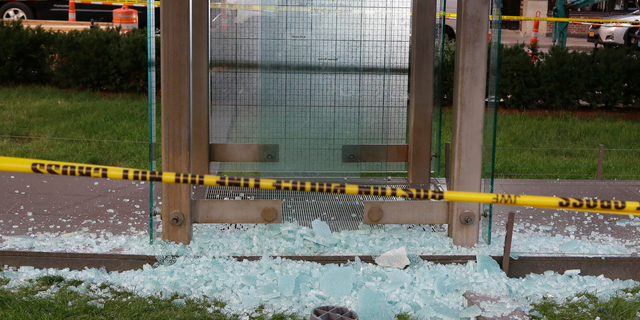 BOSTON – A 17-year-old boy who smashed a glass panel at the New England Holocaust Memorial in Boston was apprehended by an off-duty city firefighter and a U.S. Drug Enforcement Administration agent who chased the teen as he ran from the memorial Monday evening and held him until police arrived, authorities said.
A day later, a witness photographing the damage to the memorial captured images of another person, Said Bouzit, damaging flowers placed there, police said. Bouzit, 37, was taken into custody on vandalism charges.
Both suspects were arraigned separately on Tuesday in the latest acts of vandalism this summer at the memorial since almost two months earlier in June, when authorities allege James Isaac used a rock to shatter a roughly 9-foot-tall (3-meter-tall) glass panel on one of the memorial's six 54-foot-high (16-meter-high) towers. Isaac has pleaded not guilty to vandalism charges.
The six glass towers are lit internally and etched with millions of numbers that represent tattoos on the arms of many Jews sent to Nazi death camps.
The repaired memorial was rededicated in July.
Barry Shrage, the president of Combined Jewish Philanthropies, said at a news conference Tuesday that the vandalism "surpasses any possibility of understanding," The Boston Globe reported.
"(The memorial) represents bodies stacked like cordwood, it represents a million and a half dead children, it represents the ultimate outcome of evil. ...Taking them seriously is essential," he said.
Shrage was among several faith and community leaders and elected officials who condemned the vandalism, including the mayor of Malden, where the teenage suspect is from.
The teen, who was not identified, was not held on Tuesday. He was ordered to stay away from the memorial and to return to court on Oct. 10.
His attorney didn't immediately respond to a request for comment.
Bouzit's bail was set at $5,000. His attorney said Tuesday he has no comment at this time.
Authorities are investigating whether either alleged act is a hate crime.