Tampa police investigate new murder in Seminole Heights neighborhood targeted by serial killer
Residents of a Tampa neighborhood were asked to shelter in place Tuesday after a body was found close to where three people were killed within a half-mile of each other last month -- once again sparking fears of a serial killer in the Sunshine State.
Tampa Police said they're investigating a suspicious death in the Seminole Heights neighborhood, where residents have been in fear since mid-October when three people were fatally shot within a 10-day period.
Officers have saturated the area, and are going door-to-door with a SWAT team and dogs searching for a suspect and any potential witnesses, FOX13 Tampa reported.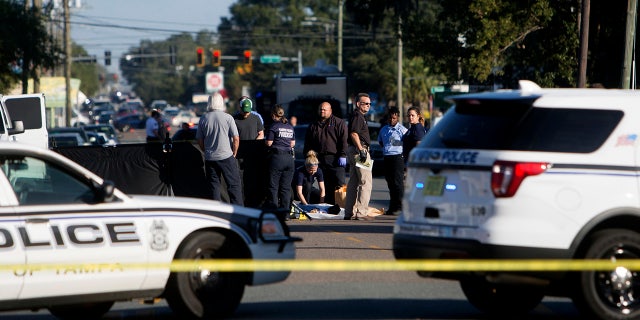 "Police officers are all over the place," Tampa police spokesman Steve Hegarty said. "We hope to catch him before he gets outside the area."
Police received a report of shots fired around 4:51 a.m., and responded within a minute to find the body of 60-year-old Ronald Felton in the street, interim Police Chief Brian Dugan said at a news conference.

Felton was crossing the street at the time to meet someone when a gunman came up from behind him and shot him, according to Dugan.
The suspect is described as a black male, with a thin build, dressed in all black and wearing a baseball cap, police said.
It is unknown what type of weapon was used in the shooting early Tuesday. The shooting has caused a main road to be shut down as part of the investigation.
TAMPA MAYOR TELLS COPS IN SEARCH FOR KILLER: 'BRING HIS HEAD TO ME'
"Right now, we are treating it as related until we can rule otherwise," he said, referring to the other killings. Dugan said he believes the killer lives in the neighborhood and asked for "everyone to pay attention."
"We need to catch this killer before we have to notify one more family that one of their loved ones is dead."
Felton was shot to death outside of the church where he volunteers at a food kitchen, according to FOX 13.
Cynthia Murray told The Tampa Bay Times that Felton had been living with her near the shooting scene. She said Felton was an unemployed construction worker who volunteered at the nearby food bank run by a church, which is just feet from where he was shot. She said he would go to the church at 2:30 a.m. to help.
"He didn't need to come here every week but he loved it," she said about Felton's volunteer work. She said Felton and his twin brother Reggie were well known in the area.
"He was the sweetest person, never any problems," his cousin, Linda Daniels, told the paper.
Dugan said the shooting was similar to the other killings, but because this killing happened early in the morning as opposed to late at night, he believes the suspect is hiding out in the area.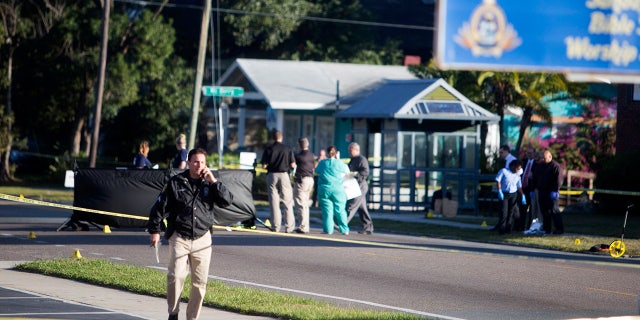 "Because the time has changed, how were they able to get here at this hour? How were they able to vanish so quickly? You have to believe they are hiding out somewhere," he told reporters.
The interim police chief also once again asked residents to look through the area and report any suspicious activity to authorities.
"If you own a firearm of any kind, we need you to verify that it's where it's supposed to be," he said. "If it's not, call us."
Schools in the neighborhood are open, but Hillsborough County district officials are telling students in the search perimeter to stay home.
"Do not go to bus stops or leave to walk or drive to school until police secure the area," school officials posted to Twitter.
Steve Zinder, the incoming neighborhood association president, told FOX13 he was awakened by the sound of police helicopters. He said in the last month, the neighborhood adjusted to having the helicopters hovering above them, but this morning it was different.
"They were much lower, much more concentrated, so I knew something was going on," he said. "This is not the kind of news we wanted to wake up to this morning."
Tampa Mayor Bob Buckhorn said officials believe the suspect "lives in close proximity" to the killing, and officials need residents to "think about what they heard last night.
"This is personal. This has got to stop," he told reporters, adding "We need to catch this killer before we have to notify one more family that one of their loved ones is dead."
The killings in Seminole Heights last month led the department to increase police patrols in the neighborhood. All of the victims were alone, and had gotten off a bus before they were killed.
Last month, Buckhorn told officers at a briefing to hunt down the killer and "bring his head to me."
"We're going to hunt this son of a b---- down until we catch him, and it's gonna be you guys, it's gonna be great police work doing what you guys do every day," Buckhorn told officers before they headed out to patrol the neighborhood in late October.
Police have released surveillance videos of a hooded suspect from near the scene of the killings. In a security video taken moments after Benjamin Mitchell became the first victim on Oct. 9, the suspect was spotted running from the scene.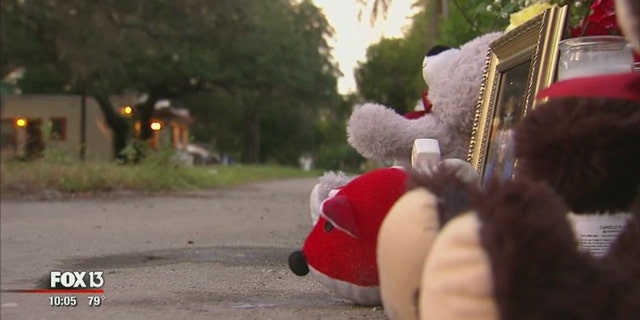 Two days after Mitchell, 22, was shot, Monica Hoffa, 32, was also gunned down. On Oct. 19, Anthony Naiboa, 20, was shot after taking the wrong bus home from his new job. Police patrolling nearby heard the gunshots and rushed to the scene to find Naiboa dead.
TAMPA NEIGHBORHOOD ON ALERT AFTER 3 KILLINGS, 'NOTHING LINKING' VICTIMS, COPS SAY
The Seminole Heights is a working-class neighborhood northeast of downtown Tampa that's slowly becoming gentrified. Run-down homes sit next to renovated, historic bungalows, and trendy restaurants have sprung up near auto body shops.
Residents and business owners have said there are car burglaries and fights between kids, but nothing like this.
The Associated Press contributed to this report.