Tampa mayor tells cops in search for killer: 'bring his head to me'
The mayor of the Florida city where three people were killed within a half-mile of each other during a 10-day period didn't mince words Wednesday, telling police to hunt down the killer and "bring his head to me."
Tampa Mayor Bob Buckhorn made the remarks to officers during a roll call in the Seminole Heights neighborhood where two men and one woman have been shot dead while walking since Oct. 9, FOX13 Tampa reported.
"We're going to hunt this son of a b---- down until we catch him, and it's gonna be you guys, it's gonna be great police work doing what you guys do every day," Buckhorn told officers before they headed out to patrol the neighborhood.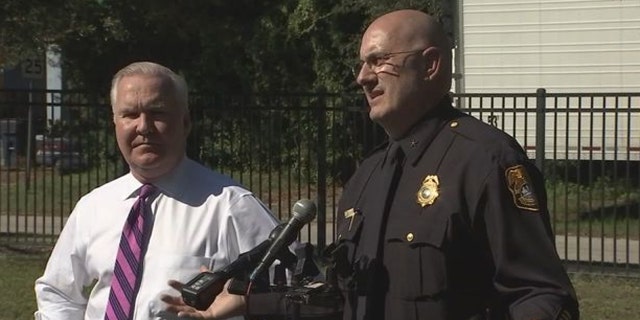 The mayor and interim Police Chief Brian Dugan told the officers they've brought "a sense of calmness" to the neighborhood, which has been gripped by fear in the wake of the killings.
"You guys go hunt him down, and bring his head to me."
"This guy is not going to win. He's not taking over this neighborhood, he's not taking over these streets," Buckhorn said. "You guys go hunt him down, and bring his head to me."
TAMPA NEIGHBORHOOD ON ALERT AFTER 3 KILLINGS, 'NOTHING LINKING' VICTIMS, COPS SAY
Dugan said police are still looking for the a person seen on surveillance video walking through the neighborhood after one of the killings.
Police released surveillance video last week from Oct. 9 of a man seen walking in the area when the first victim, Benjamin Mitchell, 22, was shot to death.
"We're now calling person who is seen running after Benjamin Mitchell's murder a 'person of interest,'" he said at a news conference Thursday as officials released new video of the person running away from the area.
In the video, the person is seen walking and flipping a cell phone in their hands before running in the opposite direction around the time Mitchell was shot dead.
"If that were me in that video, I have to believe that my neighbors would be able to identify me," he said.
The second killing took place on Oct. 13, when Monica Caridad Hoffa, 32, was found dead in a vacant lot of a gunshot wound.
A week ago, officers were patrolling the area when they heard gunshots and found Anthony Taino Naiboa dead on the sidewalk, about 100 yards from where one of the other victims was killed.
Officials are offering a $25,000 reward for information that leads to an arrest.
Dugan promised worried parents that trick-or-treating will still take place in the neighborhood, adding he will "personally be on patrol" there on Halloween night.