Suspicious package addressed to CNN intercepted in Atlanta, network says
A suspicious package addressed to CNN -- and bearing a similar appearance to the parcels containing crude bombs uncovered last week -- was intercepted Monday in Georgia, the network said.
The package is the latest discovery of an explosive, after more than a dozen parcels were mailed to prominent Democrats and CNN's New York City bureau last week. The FBI said Monday's package was recovered after it was found at an Atlanta post office. The agency said earlier in the morning that the bomb squad was called to the scene on Pryor Street.
"The #FBI has confirmed a package has been recovered in Atlanta, similar in appearance to the others, addressed to CNN," the FBI tweeted.
Last week, two of the packages believed to be mailed by suspect Cesar Sayoc were addressed to CNN. One of the packages, addressed to former CIA director John Brennan, who is not a CNN analyst, made it to the mailroom of the Time Warner Center in New York City on Wednesday. Another package was addressed to former Director of National Intelligence James Clapper, who does analysis for the network.
"This morning, another suspicious package addressed to CNN was intercepted at an Atlanta post office. There is no imminent danger to the CNN Center. All mail, at all CNN domestic bureaus, is being screened at off-site facilities as of last Wednesday, so this package would NOT have come directly to the CNN Center, even if it hadn't been intercepted first," CNN President Jeff Zucker said in a statement. "Our screening process is working and we will keep you updated as we learn more."The incident on Wednesday at the New York bureau prompted a mass evacuation while CNN anchors Poppy Harlow and Jim Sciutto were reporting on air.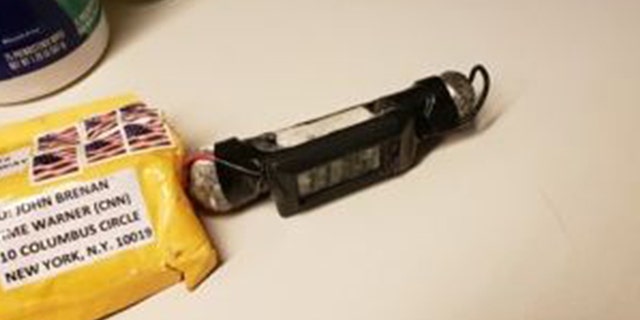 CESAR SAYOC, MAIL BOMBING SUSPECT, ARRESTED IN FLORIDA: EVERYTHING WE KNOW SO FAR
A week of terror came to an end Friday when Sayoc, 56, was arrested at an auto parts store in Plantation, Florida. He was charged with five federal crimes alleging he mailed at least 13 crude bombs. He's expected to make his first court appearance Monday.
The packages discovered last week at the Time Warner Center contained "a live explosive device." The other parcels uncovered were addressed to: President Barack Obama, Former Secretary of State Hillary Clinton, former Vice President Joe Biden, Sens. Cory Booker and Kamala Harris, Rep. Maxine Waters, former Attorney General Eric Holder, prominent Trump critic Robert De Niro and liberal donors George Soros and Tom Steyer.
None of the bombs detonated.
Authorities said they were able to track Sayoc down by analyzing forensic and digital evidence the former bodybuilder left behind on the parcels. Just hours before his arrest, Sayoc was working as a DJ, spinning classic and Top 40 hits, at the Ultra Gentlemen's Club.
The Associated Press contributed to this report.