Suspects in videotaped Chicago beating plead not guilty
Four black people charged with hate crimes in the brutal, live-Facebook-broadcast attack on a white mentally disabled man in Chicago have pleaded not guilty.
Assistant public defenders for each of the four entered the pleas on Friday, the Chicago Sun-Times reported. They have been in custody since shortly after the New Year's weekend crime. At their first hearing, a judge called the suspects a danger to society and refused any bail.
On the video, the suspects are seen beating the schizophrenic victim and can be heard taunting him and shouting profanities against white people and Donald Trump.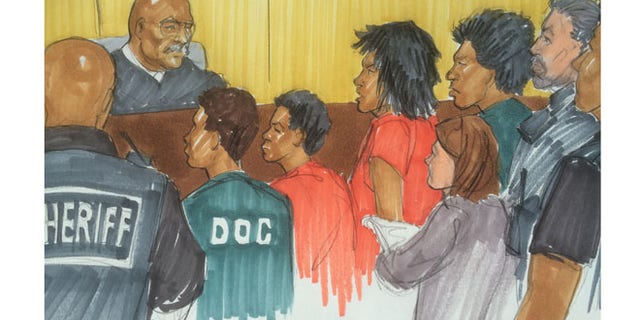 'WASN'T HIS INTENTION': MOM SPEAKS OUT AFTER 9-YEAR-OLD GIRL KILLED IN HOME INVASION
The victim is seen with his mouth taped shut and slumped in a corner of a room. Two of the suspects are seen cutting off his sweatshirt, and others taunt him off camera.
The video also shows a wound on the top of the man's head. One attacker pushed his head with his or her foot.
A red band also appears to be around the victim's hands. He was tied up for four to five hours, police said.
Chicago police initially said the youth was singled out because he has "special needs," not because he was white. But authorities later said the hate crime charges resulted from both the suspects' use of racial slurs and their references to the victim's disability.
The case gained international notoriety because the attack was captured by the cellphone camera of one of the suspects and shown on Facebook Live as it happened.
The four also face aggravated kidnapping and other charges.
The Associated Press contributed to this report.