Suspected MS-13 killers charged in Virginia murder smile for mugshots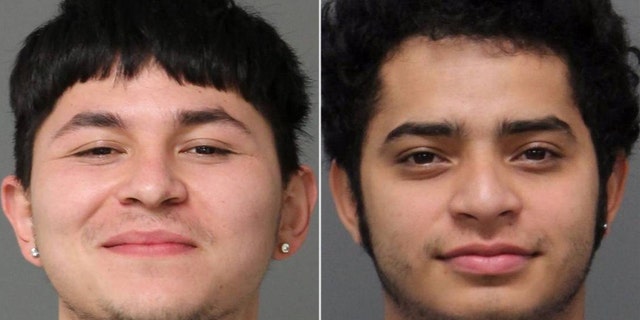 Two men affiliated with the notorious Salvadoran gang MS-13 were arrested in Raleigh, N.C., for a Virginia murder last week, officials said.
Denis Ludwin Espinal-Alvares, 19, of Oxon Hill, Md., and Erick Alexander Contreras-Gonzalez, 23, of Hernshaw, W.Va., were both charged Monday in North Carolina with being fugitives from justice.
They are accused of abducting an unidentified man from his Virginia home on March 13, shooting him five times, putting him in the trunk of his own car and returning two days later to set that car on fire to dispose of the victim's body, police said.
Espinal-Alvares, who is known as "Destino," and Contreras-Gonzalez, who is known as "Callado," smiled while getting their mugshots taken while being processed into the Wake County, North Carolina jail, according to The News & Observer.
They are being held without bail, according to arrest warrants.
According to The News & Observer, the two men are described by the National Crime Information Center as members of the MS-13 gang, considered one of the most violent street gangs in the world.
MS-13 was started by Central American immigrants, mainly from El Salvador, in Los Angeles in the 1980s, but since has expanded to include several other Central and South American countries. The gang is believed to be responsible for 25 killings in New York City's Long Island suburbs in the past two years.