Suspect in Ohio triple murder charged with killing 2 others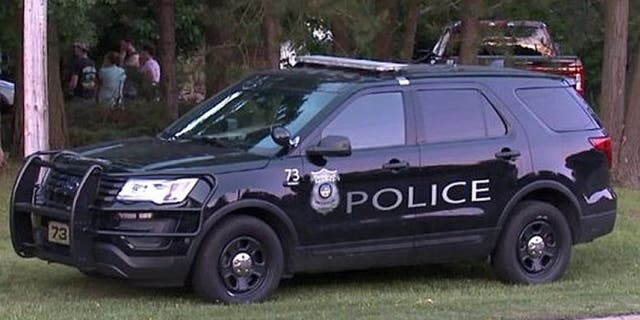 NEWYou can now listen to Fox News articles!
Police linked two more deaths to a man who was taken into custody Tuesday in connection with the murders of two college students and their mother over the weekend.
George Brinkman, 45, who served time in prison for forgery, was accused Tuesday of shooting to death Rogell and Roberta John in Lake Township, Fox 8 Cleveland reported.
Rogell John, 71, and his 64-year-old wife were killed soon after returning home from vacation Sunday and encountering Brinkman, who was house-sitting for them while they were away, the Stark County Sheriff's Office said.
"At some point there was a situation that followed, leading to the deaths of the Johns," Michaela Madison, a spokeswoman for the office, told Fox News.
Their son found their bodies on Monday.
Brinkman is a suspect in the murders of Taylor Pifer, 21, Kylie Pifer, 18, and their mother Suzanne Taylor, 45. Their bodies were found Sunday night in North Royalton.
Brinkman was taken into custody Tuesday morning after an hours-long standoff at a home in Brunswick.
Police said Brinkman had a gun and was drinking whiskey as he refused to surrender for almost nine hours. There was a woman inside the home, but she was released unharmed, according to Fox 8.
"No shots fired, but a Taser was utilized to take him into custody," Brunswick Police Lt. Robert Safran said.
Brinkman was then taken to a hospital for evaluation, Safran said.
Brinkman served time in prison for forgery and other crimes in the 1990s, the Akron Beacon Journal reported.
Police went to Suzanne Taylor's home in response to a 911 call from her boyfriend. The recording was released Monday.
Scott Plymale told the 911 dispatcher the older daughter's boyfriend, Dale Koster, found the bodies, WOIO-TV reported.
"They didn't answer the door and he picked the lock and went in," Plymale says during 911 recording obtained by the Cleveland Plain Dealer. "He said the bedroom door is closed and he opens the bedroom and he says there is a dead body in here."
Plymale is also heard saying that Koster called him earlier and said something was wrong because all the cars were there and all the doors were locked and he didn't hear the dog.
He also says that when he went to the house Saturday and dropped off flowers, he saw all their cars in the driveway and "her friend George's car."
The paper posted a photo of Brinkman in a "Arrive. Raise Hell. Leave" t-shirt.
The mother was found in her bed with her daughters, People reported.
The magazine reported that the bodies were under covers, almost as though they'd been tucked into bed.
The older daughter had been stabbed. The causes of death of the other two women were not disclosed.
Family members told Fox 8 Tuesday that Brinkman and Suzanne Taylor were long-time friends but not lovers.
"Suzy thought he was actually really a friend. We had meals together, he spent holidays here, I mean, he was a friend, so I don't know what made him so angry," her mother, Marcia Taylor, told the station.
A woman who says she was the stepmother of the two sisters told WOIO Kylie attended Bowling Green College and Taylor attended Kent State University.
Click here for more from Fox 8 Cleveland.