Suspect in Mexico massacre spent 4 months in Calif. jail before being released due to crowding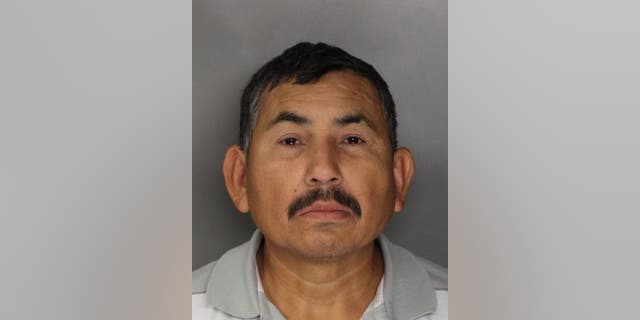 SACRAMENTO, Calif. – A man wanted in the slayings of eight Mexican municipal government officials was held in a California jail for four months on drug charges, officials said, but overcrowding forced his release before authorities made a connection to the 13-year-old killings.
San Joaquin County Deputy District Attorney Todd Turner, who is prosecuting the marijuana-growing case, said that he first learned that Genaro Olaguez was a suspect in the May 2000 slayings when he read a media account Thursday.
"These are such routine cases, it's a little surprising that it would be connected to something of that magnitude in Mexico," Turner said.
The suspect, whose last name is also listed as Olaguez-Rendon, was arrested by federal authorities this week in Sacramento on suspicion of killing a commissioner and seven other city officials in his native Sinaloa, Mexico. Four others were seriously injured in what the U.S. Marshals Service described as a massacre using heavy weapons.
Chrishna Martinez, a deputy public defender representing Olaguez, did not return telephone and email messages.
The Marshals Service had said incorrectly Wednesday that Olaguez was being immediately handed over to Mexican officials. But on Thursday, officials said they were debating how and when to return him to Mexico.
Olaguez, 53, was one of four people arrested in January in connection with four marijuana grow houses in Stockton, 50 miles south of Sacramento. Authorities found more than 900 marijuana plants and nearly 30 pounds of marijuana that was being prepared for sale, Turner said. They also found a gun, leading to a possible sentence enhancement, the prosecutor said.
Two of the other defendants in the marijuana-cultivation case are believed to be Olaguez's wife and his brother, Turner said.
Olaguez remained in San Joaquin County Jail until April, when he was released on his own recognizance because of jail overcrowding, Turner said. A warrant was issued for his arrest when he failed to show up for a court appearance April 22.
There was no effort to track Olaguez's whereabouts until a Sacramento-based law enforcement task force led by the Marshals Service found out in September that the Mexican government was seeking Olaguez in the slayings and he was living in the U.S.
The task force learned Tuesday that Olaguez was living with relatives in Sacramento and made the arrest, said Deputy U.S. Marshal Frank Newsom.
Olaguez's oldest son, Jair Olaguez, 18, told The Sacramento Bee he was confused by his father's capture.
"I think they got the wrong person," he told the paper. "He didn't kill no one."
Olaguez used a Spanish interpreter when he was arraigned in San Joaquin County on Thursday for failing to appear on the charges of marijuana cultivation, possession of marijuana for sale and theft of utilities. He was being held in lieu of $1 million bail on the state charges while U.S. and Mexican authorities decide the next step.
Virginia Kice, a spokeswoman for U.S. Immigration and Customs Enforcement, said Olaguez would be held for immigration authorities even if he posts bail. Federal authorities could obtain a warrant from Mexico and attempt to extradite Olaguez or seek to deport him administratively.
Kice said she didn't know Olaguez's immigration status.
Turner said there was no indication that Olaguez is in the U.S. illegally and he has a clean criminal record in the U.S. based on his fingerprints.
The Mexican Consulate in Sacramento did not comment despite repeated requests over two days. Olaguez is scheduled to return to court Dec. 19.