Suspect in Death of Chicago Police Officer Turns Himself In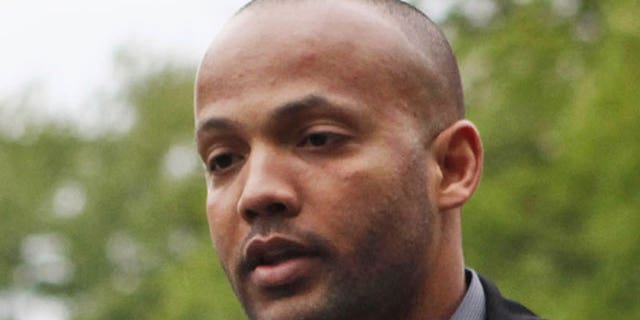 NEWYou can now listen to Fox News articles!
CHICAGO -- A 30-year-old Chicago police officer who recently returned from a tour of duty in Iraq was shot and killed when several people approached him outside his family's home and tried to steal his new motorcycle, authorities said Thursday.
Thomas Wortham IV's father -- a retired Chicago police officer -- came to his son's aid and shot two of the attackers, killing one of them late Wednesday, police said. Retired police officers are allowed to keep guns.
"This is a tragedy. This young man survived two tours in Iraq, and came home and got murdered on the streets in front of his house that he grew up in. In front of his father, it's just unbelievable," said Chicago Alderman Freddrenna Lyle.
She said she knows the family, who has lived for about three decades in the Chatham neighborhood on the city's South Side.
Wortham was a member of the Wisconsin National Guard, said spokeswoman Capt. Joy Staab. He enlisted in April 1999 and was last promoted to 1st lieutenant in August 2008, she said.
Wortham and his family had been vocal in efforts to curb street violence -- a particularly hot-button issue in Chicago where two Illinois lawmakers recently asked the governor to send in the National Guard to patrol the streets.
"It's starting to feel like it's expected in this community," the younger Wortham told the Chicago Tribune in an interview earlier this month. "When people think of the South Side of Chicago, they think violence. In Chatham, that's not what we see. It's happened, and we're going to fix it, so it doesn't happen again."
Wortham had been on an advisory council for a park in his neighborhood, and worked on making it more safe for children, Lyle said.
Wortham joined the Police Department in June 2007, according to Chicago police Superintendent Jody Weis.
"Officer Wortham was a true guardian to those he served and an inspiration to his friends and colleagues," Weis said in a statement Thursday. "The entire city of Chicago has suffered a tragic loss."
Bob Alberts, the assistant principal at Brother Rice High School, from which the slain officer graduated in 1998, said Wortham ran track for four years and played football.
"He had a great personality. He was bubbly, he was funny," Alberts said. "We're pretty depressed around here."
On Thursday, Lyle visited with the family, who has declined to comment.
"They are distraught. It's got to be the most horrible experience that a father could ever have," she said. "We appreciate everyone's concerns, but it's very difficult for the family right now."
Earlier this month, Wortham attended a memorial in Washington, D.C., for police officers killed in the line of duty. Members of Pipes and Drums of the Chicago Police Department also attended, said the group's president, Joe Bowes.
"Our prayers go out to the family of Officer Wortham," the group's Facebook page read Thursday.
Charges were pending against the injured suspect, who was hospitalized, police said.
Weis said a third suspect turned himself in Thursday and police were still searching for a fourth. Authorities said both fled after the shootings.
The Independent Police Review Authority, which investigates all police-involved shootings, has been notified, said spokesman Curtis Travers.
"The entire city of Chicago extends condolences and prayers to the family," Chicago Mayor Richard Daley said at a news conference. "We think of him serving not only our city, but our country."