Suspect in Chicago police death charged with murder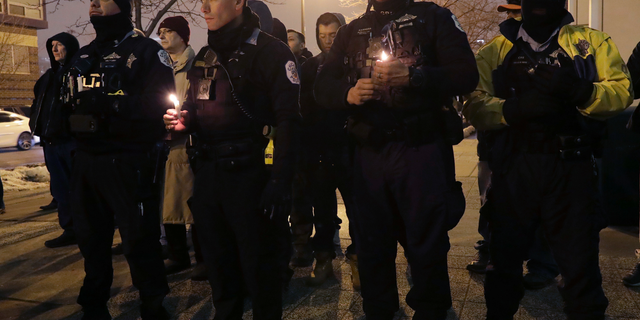 CHICAGO – A man with a long criminal history that includes a conviction for armed robbery has been charged with first-degree murder in the fatal shooting of a Chicago police commander, authorities announced Wednesday.
Shomari Legghette, 44, was also charged with being a felon in possession of a firearm, armed violence and possession of narcotics after police say they discovered he was carrying heroin, crack cocaine and marijuana. Legghette was armed with a semi-automatic handgun that had a 30-round magazine, and was wearing body armor under a heavy black jacket, police said.
At an emotional news conference Wednesday, police Superintendent Eddie Johnson talked about the suspect, but also described Cmdr. Paul Bauer's final moments as he assisted other officers Tuesday afternoon in pursuit of Legghette.
"When Paul heard the radio call, he didn't turn the other way to let someone else worry about it," Johnson said. "He didn't worry about his rank or the fact that he wasn't in his own district. He just ran towards where he was needed without hesitation."
The 53-year-old Bauer, wearing his police uniform, was in his car after having lunch near the James R. Thompson Center, a downtown government building, when he heard the call, police said Wednesday. Tactical officers had approached Legghette in an area where there had been reports of drug sales but Legghette ran away before they reached him.
Bauer, a 31-year department veteran, jumped from his car and ran after Legghette, who matched the description that he heard on his radio. Police said Bauer chased Legghette to the top of a stairwell, where the two fought, before Legghette grabbed him and the two of them fell down the stairwell.
Area Central Detectives Commander Brendan Deenihan said witnesses said — and an audio recording from a nearby taxi confirmed — that seven shots were fired at the bottom of the stairwell. All the shots came from the gun that Legghette was carrying and officers later recovered, Deenihan said.
Bauer did not draw his weapon, Deenihan said.
Police officers arrested Legghette a short time later in the stairwell.
A person who was briefed on the investigation but was not authorized to speak said Bauer was shot multiple times in the head. The person spoke on condition of anonymity. Officials did not discuss this detail at the news conference and the medical examiner's office only said that Bauer was shot to death.
Legghette has been arrested repeatedly and, according to the Illinois Department of Corrections, he has several felony convictions on his record dating back to the 1990s that have landed him in prison. Most of them are drug-related, but his record also includes crimes that show a willingness to use a gun.
According to the Department of Corrections, he was sentenced to prison in 1999 for armed robbery and after he was released, he was arrested again and sentenced to prison for possession of a firearm with a defaced serial number. Legghette was released from prison in 2008 before returning the next year after being convicted again for possession of a firearm with a defaced serial number.
Shortly after he was placed on parole, he returned to prison after it was revoked when he tested positive for drugs. He returned to prison again in 2015 after he was convicted for possession of a controlled substance.
One arrest in particular struck Johnson as a chilling prelude to what unfolded on Tuesday.
"In 2007, he was arrested for unlawful use of body armor, unlawful use of a weapon, armed violence and drug possession," the police superintendent said.
Johnson, who has repeatedly urged lawmakers to pass tougher laws to keep repeat gun offenders locked up, said Legghette's record should have forfeited his right to freedom.
"Some people don't deserve to walk the streets of Chicago," Johnson said. "He was one of them."
It was a similar message that Bauer himself shared at a gathering of business professionals just a few months before he died.
"Even when we catch somebody, there's still a long way to go to get them off the street," Bauer said at the Nov. 14 gathering, according to a report in the Loop North News. "We're not talking about the guy that stole a loaf of bread from the store to feed his family. We're talking about career robbers, burglars, drug dealers. These are all crimes against the community. They need to be off the street."
Deenihan said Legghette has refused to talk to police. He is in custody and is scheduled to appear in court on Thursday.