Suspect identified in shooting death of Colorado sheriff's deputy
NEWYou can now listen to Fox News articles!
Authorities in Colorado have identified one suspect in the shooting death of an Adams County sheriff's deputy late Wednesday.
Dreion Martise Dearing, 22, was booked on charges of first-degree murder of a peace officer, first-degree murder after deliberation, and second-degree burglary, Fox 31 Denver reported.
Two suspects — believed to be "two light-skinned black males or dark-skinned Hispanic males dressed in all black" — remain at large in connection with the murder of sheriff's Deputy Heath Gumm, 32.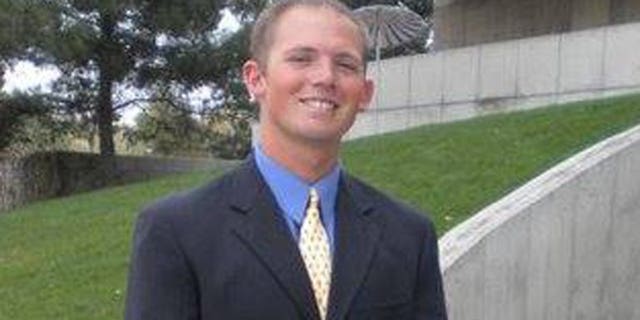 Gumm was fatally shot when deputies responded to a call in a residential area roughly 8 miles north of downtown Denver, the sheriff's office said.
Authorities were called to an "assault in progress" and saw Dearing run behind the house. The sheriff's department said when deputies caught up with him, Dearing pulled out a handgun and opened fire — shooting Gumm in the chest.
Colorado Gov. John Hickenlooper said in a statement that the investigation remains ongoing, and that flags were ordered Thursday to be lowered to half-staff statewide to honor Gumm.
"Tonight we watched as a community was on edge and a sheriff's deputy was shot while responding to a call in Adams County," Hickenlooper said. "We are deeply saddened to learn that the deputy has died from injuries sustained in the shooting. Our thoughts and prayers are with the Adams County Sheriff's Office and the family and friends of the deputy killed."
"The investigation is ongoing and authorities continue to work to restore calm to the area," the governor added.
Gumm, who had been with the sheriff's office since 2013, is survived by his wife and family. The Colorado Police Officers Foundation set up a webpage for donations to help his family.
Gumm's death came less than a month after Douglas County sheriff's Deputy Zackari Parrish, 29, was fatally shot in suburban Denver by an Iraq War veteran with a history of mental illness. Four other officers were wounded in the attack.
COLORADO COP KILLER REPORTEDLY HOSPITALIZED IN PSYCH WARD IN 2014
Hickenlooper called the murders "flat-out heartbreaking."
"It seems like again and again it's the good guys — the best — are the ones that go down," the governor said. "I think we, as a community, have to put more work into our families and try to make sure that people understand how to defuse things."
Fox News' Elizabeth Zwirz, Shira Bush and The Associated Press contributed to this report.