Suspect accused of making 'terrorist threat' against Mizzou students arrested
A suspect accused of making a "terrorist threat" on social media aimed at University of Missouri protestors was arrested by university police on Wednesday, officials announced.
Police identified the suspect as 19-year-old Hunter M. Park. The teen is accused of posting at least one threat on the anonymous location-based messaging app Yik Yak.
He is a student at Missouri University of Science and Technology in Rolla, school officials confirmed. He was arrested Wednesday at a residence hall on the Rolla campus, about 94 miles south of Columbia.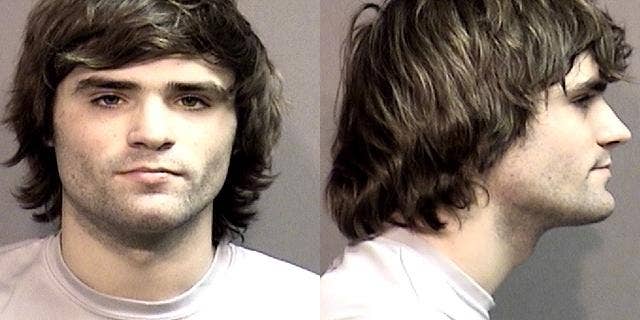 The school says no weapons were found. He is being held in the Boone County Jail.
Several threats have appeared online amid the protests over race that led to the resignation of university system president Tim Wolfe. One Yik Yak user threatened to "shoot every black person I see."
Another said: "Some of you are alright. Don't go to campus tomorrow." The message seemed to echo one that appeared on the website 4chan — a forum where racist and misogynistic comments are common — ahead of the deadly campus shooting at an Oregon community college last month.
"It's really disheartening and proves the point of why these protests and boycotts were necessary"
"This sort of misbehavior is NOT what Yik Yak is to be used for," the app's co-founder Brooks Buffington wrote in a statement published on its blog.
Campus police Capt. Brian Weimer told The Associated Press additional officers were already on campus before the university learned of the threats. University police were working with other state and local agencies to ensure the campus was secure, he said.
The university's online emergency information center tweeted, "There is no immediate threat to campus," and asked students to not spread rumors.
The school issued statement Wednesday saying that leaders have been "working around the clock" with students, faculty, staff and the MU Police Department to ensure that the campus remains safe.
"I know that some of our students, staff and faculty are feeling insecure, and I want to assure them that as we move forward toward a brighter future we are here, standing together and working hard not only to assure their safety but also to assure that every member of our Mizzou family is getting the individual help they need to make the most of the opportunities offered here," said Hank Foley, incoming interim chancellor in a statement Wednesday. "We must not lose perspective during this critical time when some may feel insecure"
It has been a tumultuous week for the flagship campus of the University of Missouri system.
The student government president reported in September that people shouted racial slurs at him from a passing pickup truck, galvanizing the weekslong protest movement. A graduate student went on hunger strike to demand the Wolfe's resignation over his handling of racial complaints, then more than 30 members of the Missouri football team went on strike in his support. Hours after Wolfe stepped down, the top administrator of the Columbia campus, Chancellor R. Bowen Loftin, was forced out.
In an expression of solidarity with Missouri, about 1,000 students participated in a walk-out at Ithaca College in New York and several hundred did the same at Smith College in Massachusetts on Wednesday. Students at Ithaca also voiced frustration with the administration's handling of some alleged racial issues on campus.
A Missouri plaza that had been the site of a sit-in by protesters was entirely empty Tuesday night and only a handful of students were seen walking around campus. Police officers from the campus department and city of Columbia were on patrol.
David Wallace, a spokesman for the student government group Missouri Students Association, said the group asked university officials to cancel classes Wednesday in light of the threats.
Gaby Rodriguez, a senior, said she was at work when she heard about the threats.
"It's really disheartening and proves the point of why these protests and boycotts were necessary," Rodriguez said. "I don't think I've ever felt this unsafe at Mizzou," she said, referring to the college by its nickname.
Some students, faculty and alumni have said the protests and top leaders' resignations are the culmination of years of racial tension.
Among other recent events, members of the Legions of Black Collegians, whose founders include a recently retired deputy chancellor, said slurs were hurled at them by an apparently drunken white student while practicing for a homecoming performance.
The university has promised changes.
Chuck Henson, a black law professor and associate dean, was appointed Tuesday as the university's first-ever interim vice chancellor for inclusion, diversity and equity.
The university system's governing body, the Board of Curators, also announced a number of other initiatives, including more support for the hiring and retention of diverse faculty and staff and a full review of all policies related to staff and student conduct.
Fox News Campus Associate Zack Newman and The Associated Press contributed to this report.