'Suicidal' airline employee plane theft started with flick of a switch, officials say
Climb into the cockpit of a plane and start it up. It's as simple as flicking a switch.
"They don't necessarily use a key so there's a switch that they use to start the aircraft," National Transportation Safety Board (NTSB) official Debra Eckrote said Saturday as she briefed reporters on the theft of a Horizon Air Q400 by a "suicidal" airline employee who crashed it into a remote island in Washington State after a 90-minute fight.
That employee has been identified as Richard Russell, 29, a Horizon Air employee, who is presumed dead after Friday's crash.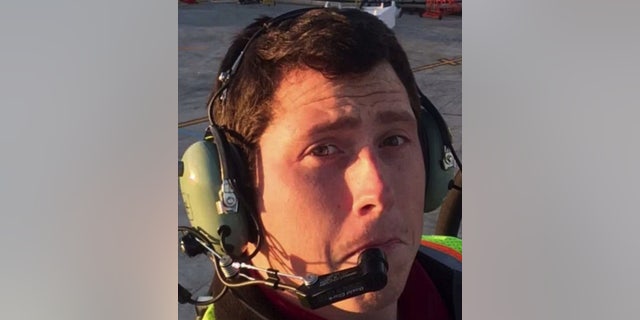 Eckrote said Friday's event was very unusual.
"It's not like we get this every day," she said.
The FBI is investigating how the thief was able steal the plane, which was parked at a maintenance area, and take off without clearance from air traffic controllers.
'SUICIDAL' AIRLINE EMPLOYEE WHO STOLE PLANE FROM SEATAC AIRPORT HAD BIZARRE CONVERSATION WITH AIR TRAFFIC CONTROL BEFORE CRASHING
The thief was described as a Horizon ground service agent at Seattle-Tacoma International Airport with an identification card that allowed him access to be near planes in secure areas.
"He was able to take the aircraft and get it airborne and we do know he was in communication with air traffic control," Eckrote said.
"This is probably jail time for life, huh?" he said during his conversation with an air traffic controller. "I would hope it is for a guy like me."
Eckrote said she believes the man had a basic understanding of how to power up a plane because of his background as an airline employee.
Horizon officials said Saturday the thief did not have a pilot's license and used a push-back tractor to spin the plane 180 degrees where it was parked.
Video showed the turboprop plane doing large loops and other dangerous maneuvers as the sun set on Puget Sound.
Of course, there's a lot more to flying a plane than just starting the engines. Aviation attorney Mark Dombroff told Fox News Saturday that it was striking that the thief actually flew for 90 minutes.
"The fact that he was aloft for almost 90 minutes without the airplane crashing, the fact that he was able to take off the airplane in the first instance, would suggest that he had a lot of familiarity with the aircraft controls and capabilities," Dombroff said. "He may well have had a lot of experience flying a computer-based flight simulator, one you can buy in a computer store."
The bizarre case points to a peril for commercial air travel --- conjuring images of airport employees causing mayhem.
'SUICIDAL' AIRLINE EMPLOYEE WHO STOLE PLANE FROM SEATAC AIRPORT HAD BIZARRE CONVERSATION WITH AIR TRAFFIC CONTROL BEFORE CRASHING
"The greatest threat we have to aviation is the insider threat," Erroll Southers, a former FBI agent and transportation security expert, told The Associated Press. "Here we have an employee who was vetted to the level to have access to the aircraft and had a skill set proficient enough to take off with that plane."
There have been other instances involving airplanes and people intent on snatching them.
On Tuesday, for instance, an 18-year-old was formally charged with attempting to steal an American Eagle twin-engine jet so he could fly it to a rap concert in another state last month.
Zemarcuis Devon Scott was arrested after police found him sitting in the cockpit at Texarkana Regional Airport.
Police asked about Scott's lack of pilot training, and he allegedly said he didn't believe there was much more to flying than pushing buttons and pulling levers.
In 2003, Ben Padilla, a private pilot, stole a Boeing 727-223 in Angola with an accomplice. The aircraft began taxiing with no communication between the crew and the tower. It then maneuvered erratically, entered a runway without clearance and took off with its lights off and its transponder not transmitting, Smithsonian Air & Space magazine reported.
The 727, Padilla and his cohort haven't been seen since.
The Associated Press contributed to this report.