LAS VEGAS – Las Vegas is bracing for a potential strike by some 50,000 casino-hotel workers if an agreement cannot be reached between Culinary Union local 226 and representatives from 34 hotel and casino properties up and down the famous Sin City strip.
The union's spokesperson, Bethany Khan, pointed out Wednesday that no tentative agreements have yet been reached with any casino. She added that citywide strike preparations are continuing.
The vocal union, the city's largest, is made up of more than 50,000 casino-hotel workers including maids, kitchen workers, and security staff. Their contracts expire at midnight on May 31.
Early last week the union held a wide-ranging vote that passed with 99 percent support granting union leaders the authority to call a strike if no agreements can be reached.
The strike would take effect June 1, potentially crippling operations for major hotels and casinos including MGM Resorts and Caesars Entertainment properties. Multiple requests for comment from the hotel chains were not answered .
Union workers are adamant that their five-year contracts be rewritten and renegotiated to increase their salaries, better address contemporary issues and ensure more job security.
"We're demanding we get better wages. With the technologies that are coming in, we want to be able to be retrained if one of our jobs happens to get taken away," said union member Larry Caldwell.
Aside from assurances that technology will not replace human jobs, other members are demanding better benefits and safety protectionss including a tougher policy to address the allegedly rampant sexual harassment and abuse hotel workers say they face at the hands of patrons and guests.
In an internal poll conducted by the union of 10,000 of its members, 59 percent of cocktail servers and 27 percent of hotel housekeepers said they had been sexually harassed by guests, managers or others while on the job.
Individual casino unions have authorized a strike before, but the last major citywide strike took place in 1984 and lasted 67 days, costing the city hundreds of millions of dollars in revenue. The union's own internal analysts project that a month-long strike would cost MGM Resorts and Caesars Entertainment properties $300 million.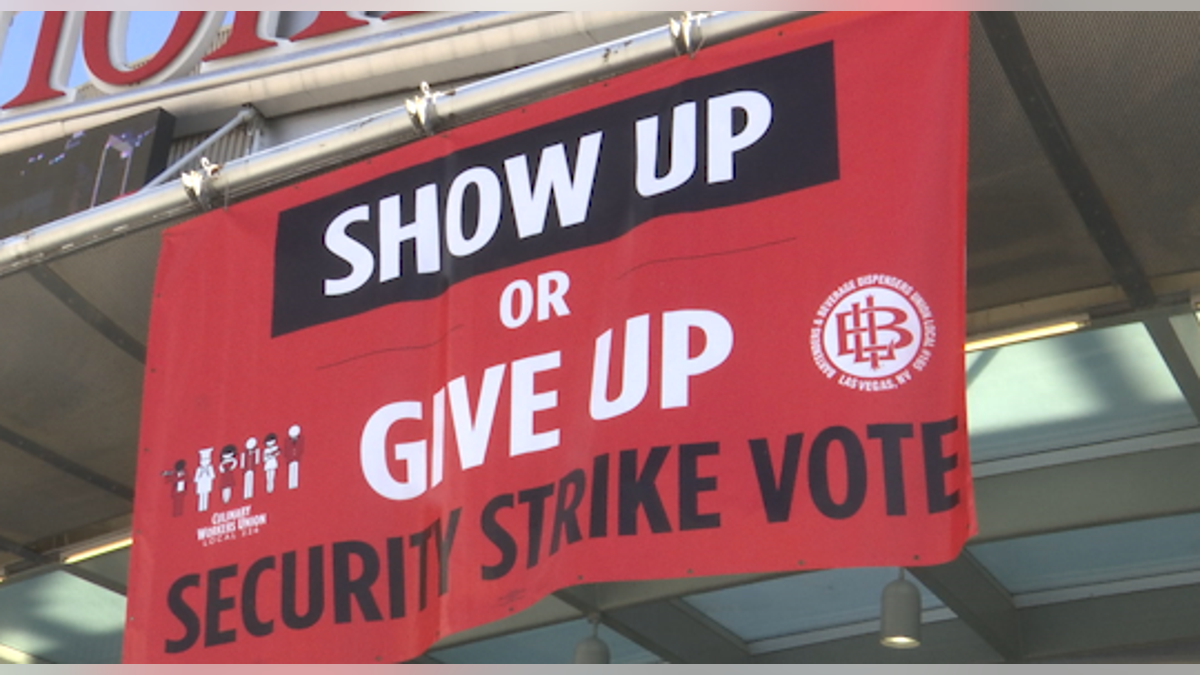 "I expect it to be a bigger impact than 1984 just because the size of the industry has grown, then you were talking about maybe total 30,000 workers on the strip, now over 60,000, said UNLV legal professor, Ruben Garcia, who specializes in labor law.
Tourism is at great risk of being affected.
The Las Vegas Convention and Visitors Authority, released a statement to Fox News saying, "Our resort partners and their union representation have traditionally maintained a good working relationship. We continue to monitor the situation but are not directly involved in negotiations and are respectful of the collective bargaining process."
The union is maintaining a website, www.VegasTravelAlert.org, for those planning to travel to Vegas in the next month to see how the labor dispute could affect their plans. It also is calling for locals and touristst not to patronize hotels and casinos on the strip if a strike is underway.