Stolen taco truck fleeing police hits school bus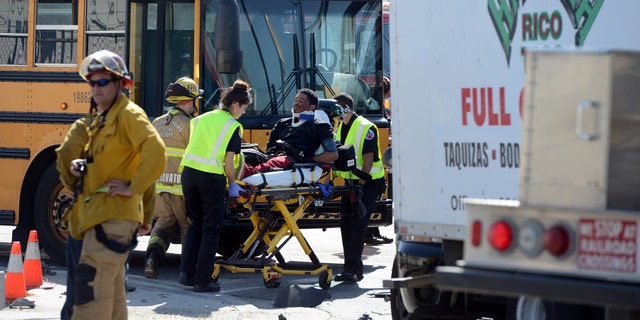 SAN BERNARDINO, Calif. – Two men fleeing from police in a stolen taco truck sideswiped a school bus full of children, took down the lights at an intersection and smashed into a propane truck on Monday, authorities said.

No one was seriously hurt in the chase.
San Bernardino police Lt. Rich Lawhead said the men fled after officers spotted them in the stolen truck on a highway.
After the crash, witnesses told the San Bernardino Sun that officers fired two shots at the men.
Driver Jeremy Morales said the scene was so crazy that he pulled into a nearby service station to get out of the way.
Lawhead said the men in the truck were taken to a hospital as a precaution.
Other buses took the children to school.