State rests in trial tied to Mich. stabbing spree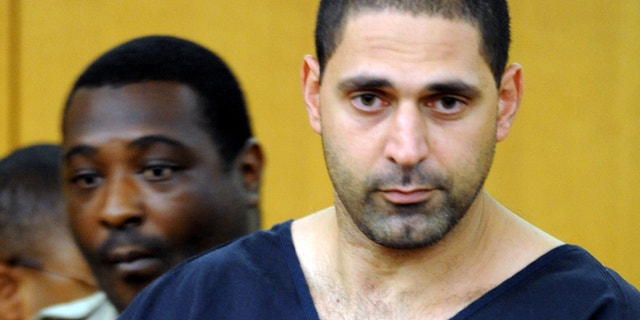 NEWYou can now listen to Fox News articles!
FLINT, Mich. – Bill Fisher pulled up his shirt in court, showing jurors his stab wound. He then pointed to a suspected serial killer and said he was the man who plunged a knife into him during a summer of random, violent stabbings in Michigan.
Fisher was among the final witnesses before prosecutors rested their case Tuesday against Elias Abuelazam, an Israeli immigrant charged with murder in the first trial connected to the random stabbings of 14 people in and around Flint in 2010.
Prosecutors spent five days combining DNA evidence with the accounts of survivors to portray the terror gripping the area at the time. Although Abuelazam is currently on trial only for the fatal stabbing of 49-year-old Arnold Minor, the judge allowed testimony from other stabbing victims.
Fisher testified that he was waiting for a bus when Abuelazam asked him to open his hood to check a hot engine in his Chevy Blazer.
"I tell him to pull the latch. ... He came so fast. I had a dagger in my stomach," Fisher, 44, told jurors.
He said he scrambled to a nearby apartment building and pushed buttons, hoping someone would respond and call 911. Fisher identified Abuelazam, sitting at the defense table, as his attacker.
The trial is the first of three murder cases filed against Abuelazam in the Flint area. He's also charged with six attempted murders. Fourteen people were stabbed in Michigan, and five died.
Separately, Abuelazam is charged with attempted murder in Toledo, Ohio, and suspected in similar non-fatal attacks in Leesburg, Va., a region where he formerly lived.
Abuelazam, 35, has been in the U.S. for half his life but he's been a drifter of sorts. He has lived in Virginia, Florida and for a few months in Michigan, where he got a $10-an-hour job at a liquor store and moved in next to his uncle's home.
In an interview, defense attorney Brian Morley acknowledged that the stabbings have similarities. But he said jurors in this trial need to focus on the death of Minor, whose blood was found in Abuelazam's SUV and on his jeans and shoes.
"Somebody did a lot of bad things in Flint. We're not here to figure all of them out," Morley said.
Morley and co-counsel Ed Zenieh are leaning toward an insanity defense when they present their case Thursday.
One of the last trial witnesses for prosecutors was a police officer from Arlington County, Va., who stopped Abuelazam for a traffic violation in early August 2010. By that time, Michigan authorities believed a serial stabber was on the loose, but they had not zeroed in on Abuelazam.
He was briefly held on a misdemeanor warrant from Leesburg, Va. Officer Jason Cox said a knife, a hammer and a pipe were found inside the SUV. Days later, Abuelazam was arrested at the Atlanta airport while on his way to Israel.