Spelling bee winner is 14-year-old Texan who spelled 'koinonia' correctly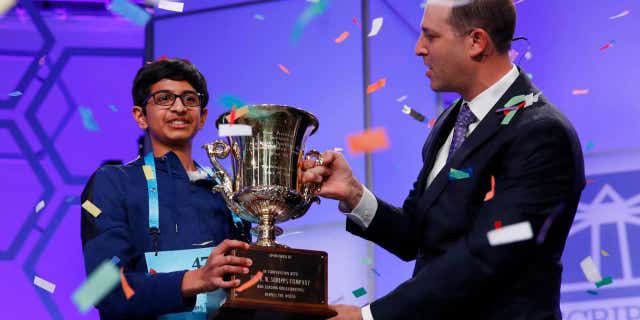 NEWYou can now listen to Fox News articles!
Karthik Nemmani, 14, of McKinney, Texas, won this year's Scripps National Spelling Bee in Maryland late Thursday.
Nemmani spelled the word "koinonia" correctly to become the 91st champion of the spelling competition. The word is defined as "Christian fellowship or communion, with God or, more commonly, with fellow Christians."
"I had confidence, but I didn't really think it would happen," Karthik said, according to USA Today. "I'm just really happy. This has just been a dream come true."
The eighth-grade winner also spelled "haecceitas" correctly after seventh-grader Naysa Modi from Frisco, Texas, missed the word "Bewusstseinslage" and placed second in the final round.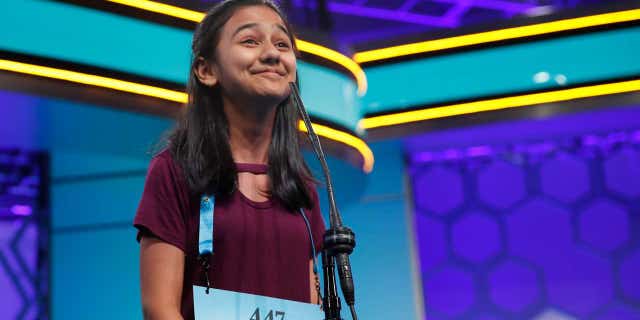 Modi is a four-time participant who beat Nemmani earlier this year on the county level.
"She's a really, really good speller. She deserved the trophy as much as I did," Karthik said of Modi. "I got lucky."
Nemmani was only the second winner in the last 19 championships competing in his first spelling bee, the Dallas Morning News reported.
"He knows all the words," Varenya Nemmani, Nemmani's cousin, told the Spelling Bee's blog.
The champion of the 93-year-old competition will receive more than $42,000 in cash and prizes.
Abhijay Kodali of Flower Mound, Texas, won third place at the event, which was held in Oxon Hill, Md.
Forty-one spellers advanced to Thursday's finals out of a field of 516 — by far the largest in the history of the competition.
Scripps started a wild-card program this year with a new rule known as "RSVBee," which created a path to nationals for spellers who didn't win their regional or state bees. Some of the finalists, including Nemmani, got to the bee this way, the Morning News reported.
The past 13 champions and 18 of the last 22 have been Indian-American, and that trend could easily continue.
Most of the consensus favorites in this year's bee also have Indian heritage.
The Associated Press contributed to this report.