Southern California wildfires force thousands to evacuate, new blaze erupts in Los Angeles
A series of wind-whipped wildfires that turned parts of Southern California into a smoldering scene of destruction continued to rage Wednesday, as a new blaze erupted in an exclusive ridge-top neighborhood in Los Angeles.
The fire erupted early Wednesday near the famed Getty Center in the Sepulveda Pass, prompting the partial closure of the 405 Freeway and threatening multi-million dollar homes in the city's ritzy residential enclave of Bel Air.
The blaze, known as the "Skirball Fire," was reported at 4:52 a.m. on the east side of the freeway near Mulholland Drive, Margaret Stewart of the Los Angeles Fire Department told FOX11.
The Getty Center and the nearby Skirball Center are both on the west side of the freeway opposite the roughly 150-acre blaze, but the fire was threatening homes toward the top of the hill on the east side, Mayor Eric Garcetti said at a news conference. Mandatory evacuations have been issued for the area east of the 405 Freeway, South of Mulholland Drive, West of Roscomare Road and North of Sunset Boulevard.
"These are days that break your heart. But these are also days that show the resilience of our city."
Garcetti said the fire, which is 0 percent contained, has destroyed at least four homes, possibly two more.
"These are days that break your heart," he told reporters at a news conference. "But these are also days that show the resilience of our city."
The brush fire is burning uphill, driven by topography rather than winds, fire officials said. LA Fire Chief Ralph Terrazas said 350 firefighters and 52 engines are fighting the "Skirball Fire." Cal Fire has brought in six fixed-wing aircraft fighting the fire from the north, west and east as Santa Ana winds have calmed down as of early Wednesday.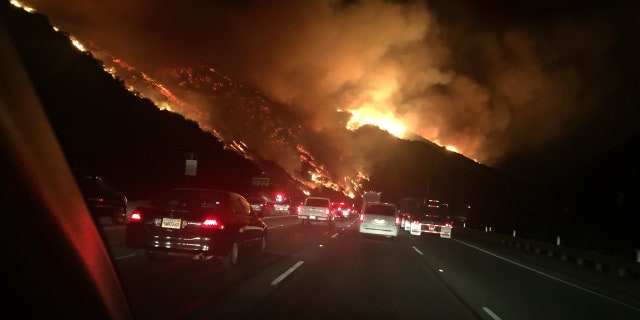 Water-dropping helicopters and hundreds of firefighters on the ground are working to protect the homes as the evacuations are being carried out by firefighters and police.
The largest and most destructive of the fires in the region, a 101-square-mile blaze known as the "Thomas Fire" in Ventura County northwest of Los Angeles, had nearly reached the Pacific Ocean on Tuesday night after starting 30 miles inland a day earlier.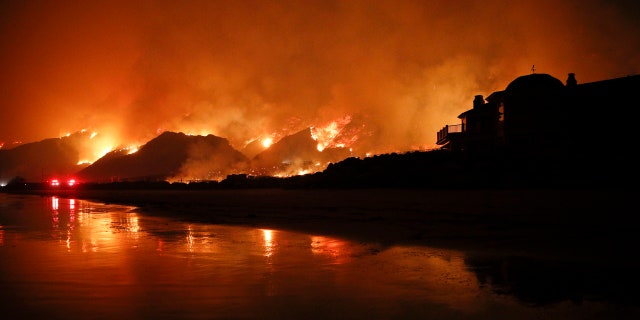 The blaze is now estimated to have burned 65,000 acres with zero percent containment and threatening 12,000 structures. It is being pushed by strong Santa Ana winds from the east as it consumes vegetation that hasn't burned in decades, according to FOX11 Los Angeles.
"The prospects for containment are not good," Ventura County Fire Chief Mark Lorenzen said at a news conference Tuesday. "Really, Mother Nature's going to decide when we have the ability to put it out."
Those fierce winds, with gusts of over 50 mph on Tuesday, kept water-dropping planes and helicopters mostly grounded because it's too dangerous to fly them in those conditions.
Fire commanders hoped to have them back in the air on Wednesday, but all indications were that the winds will be whipping then, too – fanning the flames that spurred evacuation orders for nearly 200,000 people, destroyed nearly 200 homes and remained mostly out control.
"Our thoughts and prayers are with everyone in the path of California's wildfires," President Trump tweeted Wednesday morning. "I encourage everyone to heed the advice and orders of local and state officials. THANK YOU to all First Responders for your incredible work!"
While the blazes in Southern California brought memories of the firestorm two months ago further north that killed 44 people, no deaths and only a handful of injuries had been reported as of Wednesday morning.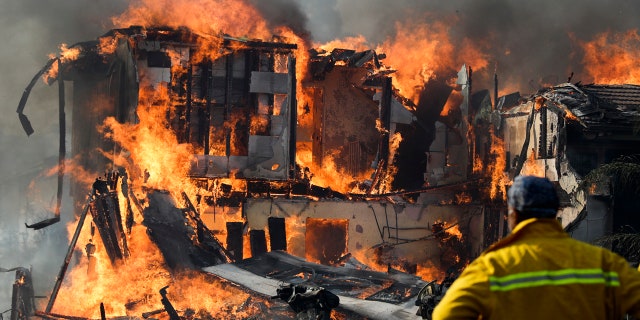 SOUTHERN CALIFORNIA WILDFIRES TRIGGER MASS DESTRUCTION, HURTING FAMILIES, ECONOMY
"This fire is very dangerous and spreading rapidly, but we'll continue to attack it with all we've got," California Gov. Jerry Brown said in a statement as he declared a state of emergency in Ventura County. "It's critical residents stay ready and evacuate immediately if told to do so."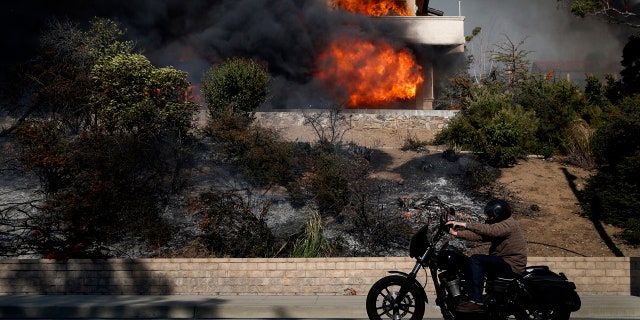 The "Thomas Fire" jumped the major artery of U.S. Highway 101 to a rocky beach northwest of Ventura, bringing new evacuations, though officials said the sparse population and lack of vegetation in the area meant it was not overly dangerous, and the highway was not closed.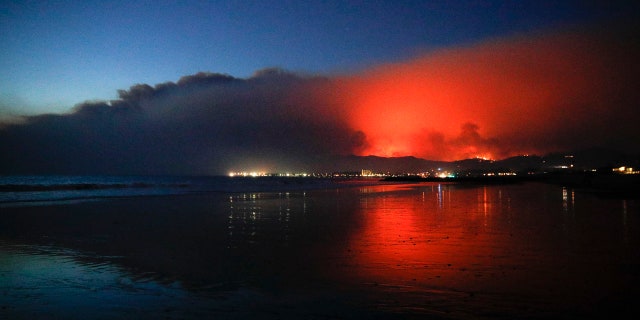 Ventura Fire Department Chief David Endaya told Fox News' "Happening Now" he hasn't seen fires like this in his 15 years with the department.
"There's no way to get ahead of something like this, as far as where we were on the night where it began," Endaya said. "We had a red flag warning, we had winds up to 80 mph gusting, and again as we saw very recently in Northern California, even with the best of planning and continued up-staffing of people, it's really up to where Mother Nature decides to do something -- it's very difficult to get ahead of it."
The fire had destroyed at least 150 structures, but Todd Derum, an incident commander, said he suspects hundreds more homes have already been lost, though firefighters have been unable to assess them. Mansions and modest homes alike were in flames in the city. Dozens of houses in one neighborhood burned to the ground.
Lisa Kermode and her children returned to their home Tuesday after evacuating Monday to find their home and possessions in ashes, including a Christmas tree and the presents they had just bought.
"We got knots in our stomach coming back up here," Kermode told the Associated Press. "We lost everything, everything, all our clothes, anything that was important to us. All our family heirlooms — it's not sort of gone, it's completely gone."
John Keasler, 65, and his wife Linda raced out of their apartment building as the flames approached, then stood and watched the fire burn it to the ground.
"It is sad," Keasler said. "We loved this place. We lost everything."
The blaze also destroyed Vista del Mar Hospital, a psychiatric hospital that specializes in treatment for post-traumatic stress disorder.
"I burst into tears," Sandy Case, who lives next to the facility, told the Los Angeles Times. "It broke my heart."
While the "Thomas Fire" may be the largest wildfire in the region, a separate blaze known as the "Creek Fire" in the foothills of northern Los Angeles burned 30 structures and forced more than 100,000 people from their homes.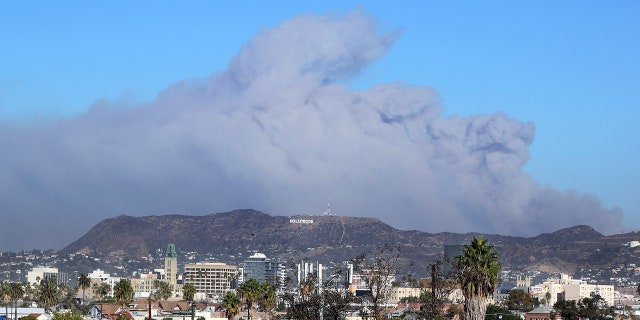 EXPLOSIVE WILDFIRES IN SOUTHERN CALIFORNIA FORCE TENS OF THOUSANDS TO EVACUATE
An estimated 600 firefighters were battling the blaze, which was being pushed by sustained winds of 25 mph, along with gusts up to 45 mph, according to FOX11.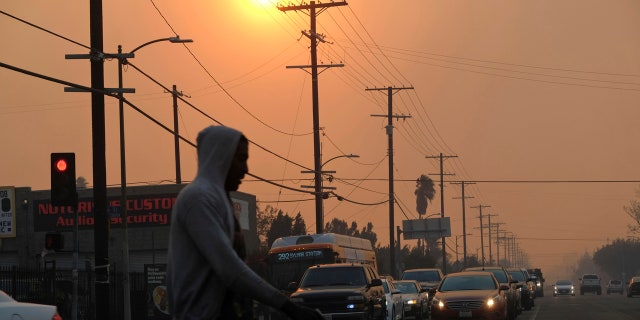 Fires are not typical in Southern California this time of year but can break out when dry vegetation and too little rain combine with the Santa Ana winds. Hardly any measurable rain has fallen in the region over the past six months.
The so-called Santa Ana winds have long contributed to some of the region's most disastrous wildfires, which blow from the inland toward the Pacific Ocean, speeding up as they squeeze through mountain passes and canyons.
In LA County, television shows with large outdoor sets including HBO's "Westworld" and CBS's "S.W.A.T." halted production of because of worries about the safety of cast and crew.
The NFL's Los Angeles Rams, which hold workouts near the Ventura County fire, canceled practice Wednesday.
The Associated Press contributed to this report.