South Dakota to execute inmate on Monday for guard's slaying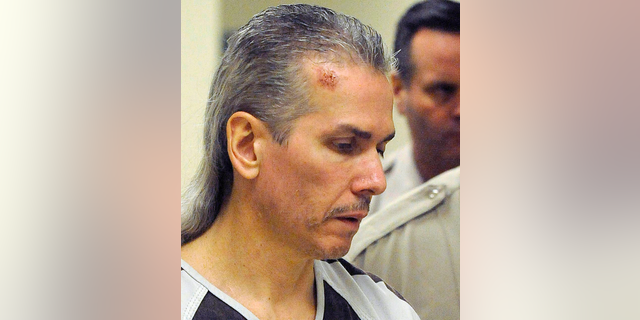 When South Dakota executes an inmate Monday for killing a prison guard during a 2011 escape attempt, it will be the state's fourth execution since it reinstituted the death penalty in the late 1970s.
Rodney Berget, 56, admitted his role in the slaying of Ronald "R.J." Johnson, who was beaten with a pipe and his head covered in plastic wrap. Johnson, a veteran guard of nearly 24 years, died on his 63rd birthday.
Some background on the case:
DEADLY ESCAPE ATTEMPT
On the morning of April 12, 2011, Berget and inmate Eric Robert attacked Johnson in a part of the South Dakota State Penitentiary in Sioux Falls known as Pheasantland Industries. It's where inmates work on upholstery, signs, furniture and other projects.
After beating Johnson and leaving his body, Robert put on Johnson's pants, hat and jacket and pushed a cart loaded with two boxes, one with Berget inside, toward the exits. They made it outside one gate but were stopped by another guard before they could complete their escape through a second gate.
In a statement to a judge, Berget acknowledged he deserved to die.
"I knew what I was doing, and I continued to do it," Berget said. "I destroyed a family. I took away a father, a husband, a grandpa."
GIVING UP
Robert was executed on Oct. 15, 2012. He hastened his own death by attempting to waive the state's review of death penalty cases and then told a judge that if allowed to live, he would kill again.
Berget's mental status and death penalty eligibility have played a key role in court delays. Berget in 2016 appealed his death sentence, but later asked to withdraw the appeal against the advice of his lawyers.
Berget wrote to a judge asking to proceed to execution. He said he was worried the death penalty would be overturned and said he couldn't imagine spending "another 30 years in a cage."
Attorney General Marty Jackley said Friday that there have been two filings seeking to stop the execution. The South Dakota Supreme Court denied one challenging the state's method of execution, but a second arguing that Berget lacks the intellectual capacity to receive capital punishment is pending, Jackley said.
SOUTH DAKOTA'S METHOD
South Dakota uses lethal injection and has not had issues with obtaining the drugs it needs, as some other states have. One reason may be that the state shrouds some details in secrecy.
That includes the supplier of the drug it will use. Lawmakers in 2013 approved hiding the identities of its suppliers. The Department of Corrections has said it plans to use a "one-drug protocol" in the execution, and policy calls for either sodium thiopental or pentobarbital. Pentobarbital was used in its last two executions.
State law also allows the Department of Corrections to withhold a public announcement of the time of the execution until 48 hours beforehand. The state announced the week of Berget's execution in August.
Johnson's family plans to be there. Berget will be executed at 1:30 p.m., rather than the typical 10 p.m. time, to keep a balance between those involved and the need to maintain orderly operations of the institution.
Afterward, witnesses and others will meet with media at the Ronald "RJ" Johnson Training Academy on the prison grounds. It was dedicated in Johnson's memory on the one-year anniversary of his death.
'HE WAS SO KIND'
Johnson's widow, Lynette Johnson, says her husband didn't deserve to die.
She told the Sioux Falls Argus Leader that her husband was "so kind" and "didn't have a bad word to say about anybody." Johnson sized down R.J.'s wedding ring and now wears it next to her own; she keeps his watch — its hands frozen at the time he was attacked — in a clear case next to photos above her fireplace.
Lynette Johnson told the Argus Leader she appreciates letters she has gotten from inmates who knew and respected her husband. She said she is nervous about Monday's execution, worried that Berget might try to escape. She said his death may bring a sense of security.
Johnson didn't return a phone message from The Associated Press.
BERGET FAMILY HISTORY
Berget will be the second member of his family to be executed. His older brother, Roger, was convicted of killing a man to steal his car and spent 13 years on Oklahoma's death row until his execution in 2000 at age 39.
Roger Berget was sentenced to death in March 1987. Less than three months later, Rodney Berget, then 25 and serving time for grand theft and escape, joined five other inmates in breaking out of the South Dakota prison.
Rodney Berget was released in 2002 but didn't stay on the outside for long. A year later he was sentenced to life in prison for attempted murder and kidnapping.
READY TO DIE
Dennis Davis, director of South Dakotans for Alternatives to the Death Penalty, has been visiting Berget regularly on death row. Davis said Berget is tired of being locked in a cell 23 hours a day and is ready to die.
"He doesn't want to be tortured anymore in solitary confinement," Davis said. "Obviously he has some fears as any human being would."
Davis said Berget's family has not been in contact with him for many years and only one relative, a niece, has supported him. It's not clear if she will attend the execution.
Davis, a Catholic deacon from Burbank, plans to walk with Berget from death row to the gurney.