South Carolina police deliver New Year's baby on interstate after high-speed chase, parents say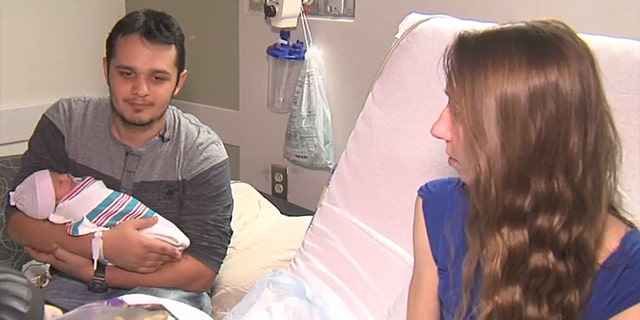 A baby girl in South Carolina entered the world in a big way on New Year's Day as she was born on the side of highway following a high-speed police chase, according to her parents.
New mom Tiffani Von Glahn told WISH TV that she and the baby's father, Carl Alewine, had to trek an hour to the hospital in Charleston after their soon-to-be-born baby girl came three weeks ahead of schedule.
With a potential C-section ahead of them, Von Glahn told the outlet that they wanted to get to the hospital as quickly as possible. On the way, Alewine reportedly got caught going a tad over the speed limit.
"He was going about 90-95 and a police officer came up behind us to pull us over," Von Glahn told WISH TV. "And he was like, 'Do you want me to stop?' And I was like, 'No don't you stop', because I felt her coming."
CHRISTMAS DAY LOTTO GLITCH GIVES WOMAN MULTIPLE WINNING TICKETS IN SOUTH CAROLINA
Alewine, speaking to Fox 24 Charleston, recalled the moment saying, "I said babe, I might go to jail tonight. She's screaming so I knew that meant keep going."
"Next thing we know," Von Glahn added, "we look back and there is like 20 cop cars behind us."
The couple made it as far as they could before eventually getting cut off by police, according to the outlet. But once the officers grasped the situation, they reportedly stepped up to help and delivered baby Anastasia on the road.
WANT TO KEEP YOUR NEW YEAR'S RESOLUTIONS? HERE'S HOW
Von Glahn told WISH TV that Alewine was handcuffed "just for safety reasons, because they were saying there are people out there that will fake having a pregnant wife."
Alewine added, "I'm sitting there, watching her born on the hood of the car, fireworks going off in the background because it's New Year's, and then they let me out of handcuffs, and the cops started clapping and congratulating us."
The healthy new baby reportedly weighed 6 pounds and 2 ounces and arrived around 1 a.m., Fox 24 Charleston said.
"We have an exciting story to tell her when she is older," Von Glahn told the outlet.