Son of Las Vegas Judge Arrested in $1.5 Million Robbery at Bellagio Casino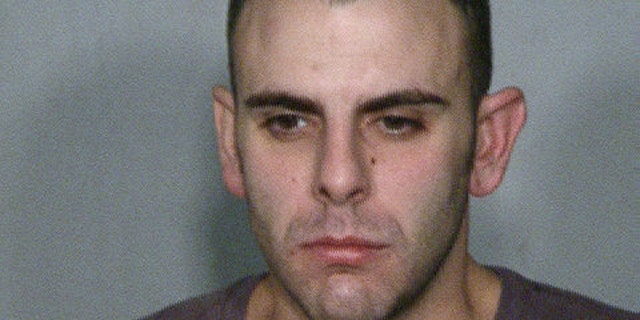 The son of a Las Vegas judge has been arrested in connection with the $1.5 million robbery in December at the Bellagio casino, police announced Thursday.
Anthony Carleo, 29, is charged with robbery with use of a deadly weapon, burglary with use of a deadly weapon, and trafficking in a controlled substance, authorities said in a statement released to FoxNews.com.
Carleo is the son of Las Vegas Municipal Court Judge George Assad.
"I think it goes without saying that as a father, I am devastated and heartbroken to see my son arrested under these circumstances, as is the rest of his family," Assad said. "I can say that as a prosecutor and a judge, I have always felt people who break the law need to be held accountable."
Police said the drug charge stems from the discovery of a large amount of narcotics during the investigation into the Dec. 14 heist.
Witnesses said the bandit parked his motorcycle near the north valet -- an entrance off Flamingo Road east of Interstate 15 -- before entering the casino and robbing a craps table.
The man returned to the scene of the crime several times before his luck finally ran out, police said Thursday.
A 12-second video clip of the man running out of the casino was later released by Metro police.
A search by FoxNews.com found no prior criminal arrests for Carleo, a former real estate broker who lived for several years in Pueblo, Co., where he managed two businesses -- one a limousine service co-owned with his stepfather, Gino Carleo.
Records show the younger Carleo filed for bankruptcy in 2009.
Carleo was reportedly living at Assad's home in Las Vegas when he was arrested late Wednesday.
FoxNews.com's Cristina Corbin and The Associated Press contributed to this report.
Click to read more on the Bellagio robbery arrest at Fox5Vegas.com