Soldier Who Tried to Enter MacDill Base Wanted to Impress Girlfriend, Dad Says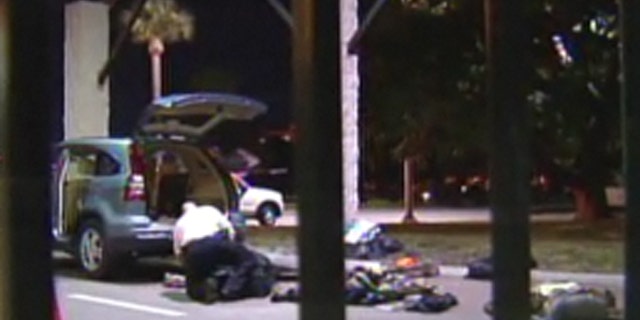 The AWOL soldier accused of trying to enter MacDill Air Force Base with weapons and ammunition in his car is not a terrorist and was merely "trying to impress" his girlfriend during the incident, his father said in an exclusive interview with FoxNews.com.
"This is all just about a girl," said Ray Kilburn, whose son, Spc. Christopher Paul Kilburn, has been charged with desertion. "There's really nothing nefarious here about him trying to get on the base."
Christopher Kilburn, 26, of Culpeper, Va., will be turned over to Army authorities, base officials said in a statement late Tuesday. His companion, Micah Noel Goodier, of Palm Beach, Fla., could face charges, pending a decision by the U.S. Attorney's Office.
Officials said the couple tried to enter MacDill Air Force Base in Tampa, Fla., on Monday in a Honda CRV that contained three handguns, three rifles and some ammunition.
Base officials have not yet indicated when Kilburn abandoned duty, but his father said he had been stationed with Alpha Company, 1-16th 1st Infantry Division, in Fort Riley, Kan., and that he was supposed to be at a training session in Georgia at the time of the incident.
He said one of the rifles that was found in the car's trunk was a gift he'd given to his son.
The father, an Army veteran, said Kilburn had divorced his wife in the past year and has a young daughter. He said he last spoke to his son about a month ago.
"I don't know what his thought process was when he went AWOL," he said. "He's probably too embarrassed to talk to us. The story is there's really no story here. It's just a stupid kid."
Instead of attending the training session, Kilburn said his son "hooked up" with Goodier, whom he once dated.
Christopher Kilburn had been recommended for promotion by the Army Promotions List captains board late last year, according to the Army Times. He has been involved in the military since high school, where he served as an ROTC officer, his father said.
According to public records, Kilburn has had prior run-ins with the law, most recently on May 15, 2005, when he was charged with obstruction of justice without force, a misdemeanor. His sentence of 12 months in jail was suspended, records show.
Air Force Col. Dave Cohen told reporters during a news conference on Tuesday that the incident did not appear to have been a terrorism attempt. Investigators were still trying to determine the couple's motivation and intent, he said.
"We've been talking to them since last night trying to get information, and we're still trying to put that puzzle together," Cohen said.
Cohen described the weapons and ammunition found in Kilburn's car as "military style," but commercially available.
He said Kilburn and Goodier flashed phony military identification when they tried to access MacDill at a remote gate at about 5 p.m. Monday. A security officer became suspicious, and the couple cooperated when they were asked to get out of the car.
He said a bomb disposal unit was called to examine the car when the weapons were found, and no explosives were found.
"At no point was the security of MacDill Air Force Base breached," Cohen said. "The system worked exactly as it was supposed to."
The Associated Press contributed to this report.