Small plane makes crash landing on busy Colorado road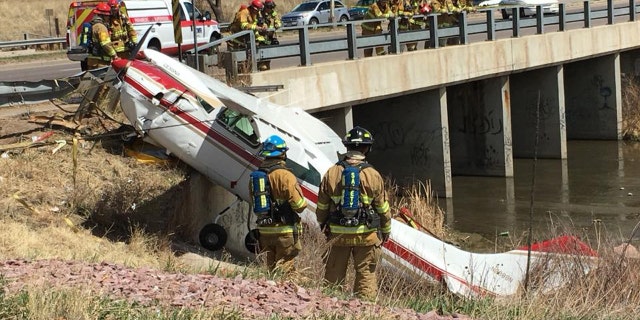 NEWYou can now listen to Fox News articles!
A small plane crashed on a busy road in Colorado on Sunday in a dramatic moment captured on a driver's dashcam video.
The Colorado Springs Police Department said in a Facebook post there was one minor injury reported in the crash, which happened around 1 p.m. on Constitution Avenue.
A man who was waiting in line at a Sonic Drive-In captured the moment the plane went down on the road, narrowly missing the restaurant and vehicles.
The man reacted to the surprising scene by saying, "What the f___!"
Lt. Howard Black with the Colorado Springs Police Department told FOX21 that, after landing on the roadway, the plane skidded and hit a guardrail before flipping over on its side.
"When I arrived on scene, and when I first saw the aircraft, you really had to wonder to what extent the injuries were," he told FOX21. "So very, very fortunate to report that we have no serious injuries out there."
HOT AIR BALLOON-CRASH LANDS IN SAN DIEGO NEIGHBORHOOD
Three people were aboard the plane, and one of them was taken to the hospital to be evaluated.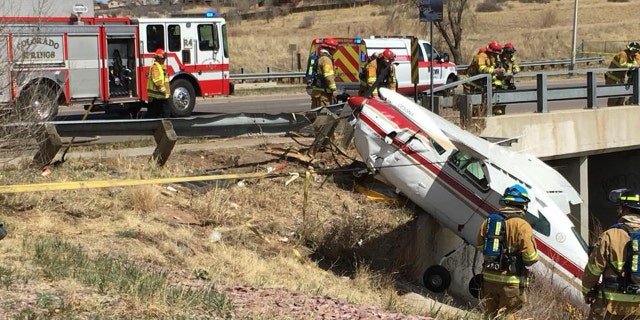 Photos posted by police on Facebook show the plane wrecked along a bridge embankment just above stream.
Fire officials said they had to clean up 25 gallons of fuel that was leaking to make sure it didn't get into the waterway.
The roadway was closed for several hours because of the crash, which remains under investigation.