Slow-speed pursuit of tractor leads to crash, arrest, 2 cops injured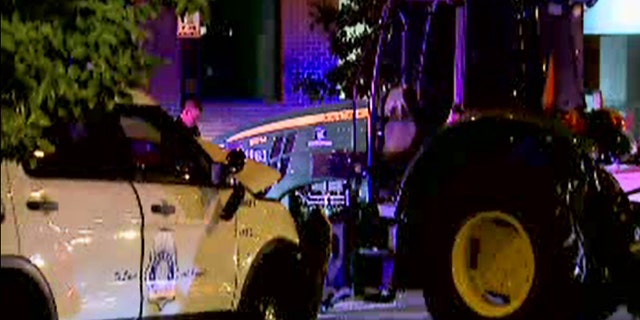 Two Denver police officers were injured during a slow-speed pursuit of a stolen John Deere tractor Friday night after more than a dozen squad cars gave chase through the city's streets, authorities said.
Video on social media showed the tractor, which was hauling farm equipment, drive onto a sidewalk and swerve back into street traffic with police in tow.
The pursuit ended after a police cruiser rammed the tractor head-on, deploying the cruiser's airbags, a witness told FOX31 Denver. The driving officer jumped out of the car and subdued the suspect with a stun gun.
"As soon as that collision happened, the officer that was in that driver's side was out that door, and was out with his Taser like instantly," witness Marcos Willman told the station. "I feel like it was just adrenaline, just like up and we're getting this guy."

The pursuit began in the City Park area, where the Denver Zoo is located, and developed into a slow 30-minute chase, eventually ending in the city's Lower Downtown neighborhood, near the Coors Field baseball stadium, Denver Police spokesman Tyrone Campbell told Denver's KMGH-TV.
Authorities said the tractor hit multiple vehicles and some buildings were damaged. Police decided to stop the tractor by striking it head-on to end the chase before any pedestrians got hurt.
The two officers were hospitalized after the crash, police said. Details on their injuries were not revealed, but they were expected to make a full recovery.
The male suspect suffered multiple dog bites while resisting arrest and was taken to a hospital, where he was also expected to recover, the Denver Post reported.
The suspect was not identified and no charges were filed as of Friday.