Slain Massachusetts officer's handcuffs used to restrain his suspected killer
A pair of handcuffs belonging to a deceased Massachusetts police officer were used on Wednesday to restrain his killer, officials said.
Weymouth police Officer Michael Chesna, 42, was killed July 15 after Emanuel Lopes allegedly struck him with a rock, took the officer's gun and shot him multiple times.
Weymouth police released a photo of Lopes, 20, being handcuffed in a hospital bed with the officer's restraints.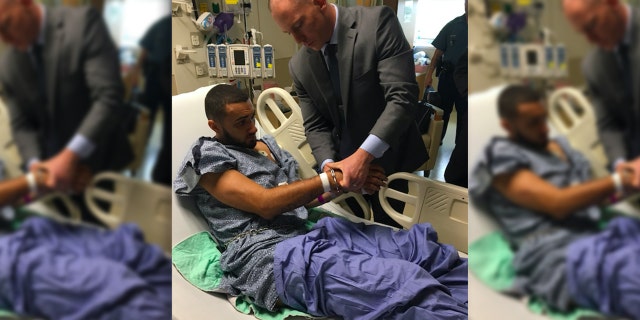 Lopes was arraigned on two counts of first-degree murder Wednesday, WCVB-TV reported.
The attack occurred after Lopes crashed a car and fled the scene, investigators said. Lopes was later discovered by Chesna while Lopes was vandalizing a nearby house, authorities believe.
OFFICERS KILLED IN THE LINE OF DUTY IN 2018
Officers who responded to the scene traded shots with Lopes, striking him in the leg and knee. He was hospitalized with injuries that were not life-threatening.
Vera Adams, a 77-year-old widow who lived nearby, was also fatally shot by Lopes during the incident, officials said.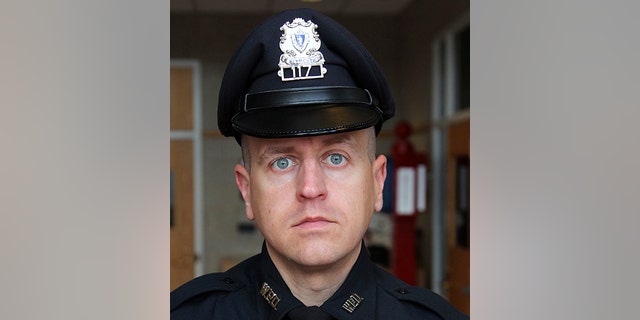 Chesna was a veteran of the wars in Afghanistan and Iraq and a married father of two children, ages 4 and 9.
TWO ALABAMA OFFICERS INJURED IN PURSUIT OF CARJACKING SUSPECTS
The Stephen Siller Tunnel to Towers Foundation has said it will provide $100,000 to help pay off the mortgage on Chesna's home and is hoping to raise even more money to help his family, WFXT-TV reported.
A memorial fund has also been set up for the family. His funeral is set for Friday.
Fox News' Katherine Lam contributed to this report.