Slain Arkansas cop honored as murder suspect pleads not guilty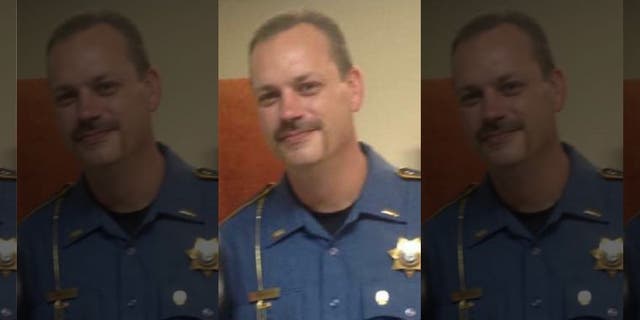 An Arkansas sheriff's deputy killed in the line of duty last week was remembered by fellow law enforcement officers for his service and dedication at his funeral Monday, as his alleged killer was behind bars facing capital murder charges.
Yell County Sheriff's Deputy Lt. Kevin Mainhart, 46, was killed during a Thursday traffic stop, according to Arkansas State Police. Fellow cops rallied behind his memory at a service Sunday and Monday's burial.
"He left behind a family. He left behind a much larger family, those that wear the uniform," family friend and former Pope County deputy Rex Surrette told Fox 16.
Law enforcement from across the state attended the visitation in Dardanelle.
"We're a family," said Sgt. Alan Bradley, of the Russellville Police Department. "It's different than any other brotherhood, because we depend on each other for our lives."
"Lieutenant Kevin Mainhart, Yell County Sheriff's Office, was laid to rest today," the FBI Little Rock office tweeted Monday, posting a photograph. "Family and friends, you are in our thoughts and prayers."
Taps was played after the funeral, KATV reporter Elicia Dover tweeted.
James Arthur Bowden, 42, is accused of killing Mainhart and two others, 61-year-old Rita Miller and 17-year-old Ciera Miller. Family members have said the Millers were relatives of Bowden's girlfriend.
ARKANSAS POLICE SHOOTING: SUSPECT IN CUSTODY AFTER 3 DEAD, INCLUDING OFFICER
Bowden was ordered jailed without bond Monday after entering a not-guilty plea on three charges of capital murder.
At a brief arraignment Monday, a judge issued a gag order that bars prosecutors, defense attorneys and police from speaking publicly about the case. Bowden is next due in court in July.
According to an arrest affidavit, authorities accused Bowden of shooting Mainhart during a traffic stop, then killing Rita Miller and Ciera Miller at a nearby home about 65 miles (105 kilometers) west of Little Rock.
The affidavit also said that Mainhart's pistol was missing. Police have also said that Bowden held his girlfriend hostage for five hours before surrendering.
SUSPECT IDENTIFIED IN OHIO SHOOTING THAT KILLED POLICE CHIEF, TWO NURSING HOME EMPLOYEES
"Lt. Mainhart's 25-year career in law enforcement in West Memphis and Yell County made Arkansas a safer place," Arkansas Gov. Asa Hutchinson said in a Thursday statement. "Our thoughts, prayers and gratitude are with the Mainhart family and all those who put their own lives in danger to serve and protect."
Bowden's sister, Julie Inmon, said last week that her brother was mentally ill.
The Associated Press contributed to this report.